NHL : Eriksson hat-trick propels Stars over winged Ducks
CUT The Swede raised his season's goal tally to 16 as Anaheim struggled without top scorer Ryan Getzlaf, who had been sidelined after slicing his leg with his own skate
Loui Eriksson netted a hat-trick to lead the Dallas Stars to a 5-3 victory over the Anaheim Ducks on Thursday.
Eriksson, named in Sweden's team for the Vancouver Olympics next month, scored once in the first period and twice more in the second to lift his season tally to 16.
"I had a lot more chances out there," Eriksson told reporters. "But it's always fun to score a hat-trick, especially when you win."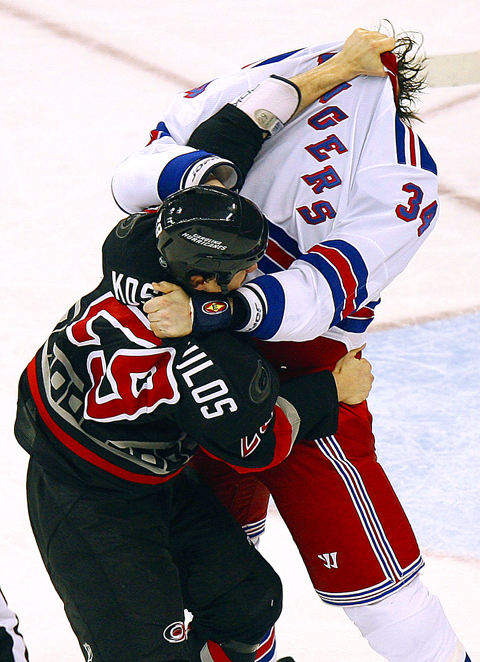 The New York Rangers' Aaron Voros, right, and the Carolina Hurricanes' Tom Kostopoulos scuffle during the second period in Raleigh, North Carolina, on Thursday.
PHOTO: REUTERS
Stephane Robidas and fellow Canadian Brad Richards also scored as the Stars (18-11-11) posted back-to-back wins for the first time since late November.
Finland's Saku Koivu, also heading to Vancouver, scored twice for the Ducks, who led 2-1 in the second period before conceding three straight goals.
Dallas goaltender Marty Turco made 31 saves against the Ducks (16-17-7), who were playing without leading goalscorer Ryan Getzlaf, sidelined after cutting his leg with his own skate last weekend.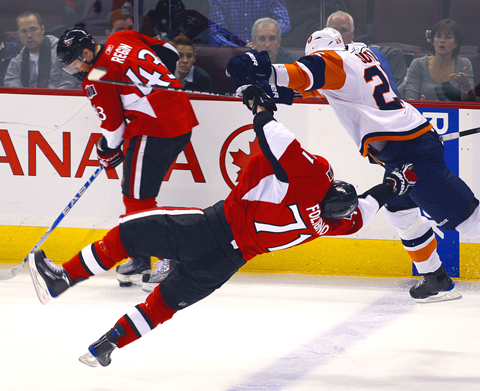 The Ottawa Senators' Peter Regin, left, skates away with the puck as teammate Nick Foligno is hit hard by the New York Islanders' Andy Sutton during the first period in Ottawa on Thursday.
PHOTO: REUTERS
"Somewhere along the way in the first period we lost our composure," Anaheim forward Bobby Ryan said. "These games should be easy to get up for, and for whatever reason we're not coming through."
Jonas Hiller recorded 37 saves for the Ducks, who were out-shot by Dallas 42-34. Mike Brown also scored for the Ducks.
Blackhawks 5, Devils 1
In Chicago, goalie Cristobal Huet stopped 26 shots to help lift the home team over New Jersey in a clash of two NHL divisional leaders.
Jonathan Toews had a goal and an assist, while Troy Brouwer, Ben Eager, Andrew Ladd and John Madden also scored for Chicago, who maintained a six-point buffer atop the Central Division.
Huet came within 93 seconds of a shutout, with Jamie Langenbrunner scoring a late consolation for New Jersey. The Devils remain in top place in the Eastern Conference.
Rangers 2, Hurricanes 1
In Raleigh, North Carolina, Brandon Dubinsky's goal at 11:49 of the third off an assist from Marian Gaborik gave New York the victory over struggling Carolina.
Gaborik, who has 26 goals this season, is the fourth NHL player to reach 50 points this season. He assisted on both goals. Erik Christensen added a goal and an assist for his first two points of the season.
Sharks 3, Coyotes 2, SO
In Glendale, Arizona, San Jose notched its seventh straight win and remained outright leader in the Western Conference with a shootout victory over Phoenix.
Ryan Clowe scored the lone shootout goal for the Sharks, who got goals in regulation from Dan Boyle — his 100th NHL goal — and Kent Huskins.
Phoenix had its franchise-record 10-game winning streak snapped despite goals from Scottie Upshall and Taylor Pyatt.
A win would have moved the Coyotes within two points of the Sharks in the Pacific Division, but the gap was opened to five.
Red Wings 4, Avalanche 2
In Detroit, Michigan, Ville Leino put the hosts ahead to stay with four minutes left in a narrow win over Colorado.
Darren Helm scored two short-handed goals and Pavel Datsyuk also scored for Detroit.
Brandon Yip netted both Colorado goals.
Senators 3, Islanders 2, SO
In Ottawa, Ryan Shannon scored the decisive shootout goal to lift Ottawa over New York.
Shannon delivered Ottawa's third straight shootout tally after Alex Kovalev and Mike Fisher also beat Dwayne Roloson with the Senators' first two shots.
Senators goalie Pascal Leclaire stopped John Tavares on the Islanders' final attempt after Frans Nielsen and Rob Schremp had scored.
Chris Kelly and Peter Regin got second-period goals for Ottawa.
Kings 5, Wild 2
In St Paul, Minnesota, Los Angeles snapped a four-game losing skid by beating Minnesota.
Alexander Frolov scored twice and Michal Handzus added a goal and an assist. Brad Richardson and Ryan Smyth also scored for the Kings.
Andrew Brunette and Owen Nolan netted for the Wild.
Predators 2, Blue Jackets 1, OT
In Columbus, Ohio, David Legwand scored 28 seconds into overtime to give Nashville victory over the home team.
Joel Ward, who also assisted on Andreas Thuresson's tying goal in the third period, stole the puck and tapped a pass backward to Legwand in the low slot for his ninth of the season. The Predators are 22-2-1 against the Blue Jackets over the past four years.
Columbus' goal came from Raffi Torres in the first period.
Canucks 4, Blues 3, OT
In St Louis, Christian Ehrhoff scored a power-play goal 2:24 into overtime, and Vancouver rallied from three goals down to beat the hosts.
Flames 2, Oilers 1
In Calgary, Canada, the Flames' Curtis Glencross tipped in a point shot during a third-period power play to beat Edmonton.
Canadiens 5, Panthers 4
In Sunrise, Florida, Marc-Andre Bergeron and Benoit Pouliot scored early in the third period to lift Montreal over Florida. The Canadiens have won six of seven on their recent road trip.
Comments will be moderated. Keep comments relevant to the article. Remarks containing abusive and obscene language, personal attacks of any kind or promotion will be removed and the user banned. Final decision will be at the discretion of the Taipei Times.