Brett Favre among eight Vikings to be picked for Pro Bowl
Brett Favre was among eight Minnesota Vikings and Peyton Manning was one of six Indianapolis Colts picked for the NFL Pro Bowl on Tuesday.
It will be Favre's 11th Pro Bowl and the 10th for Manning. No other quarterbacks have been to 10 all-star games.
Favre will be a backup to New Orleans' Drew Brees, the NFL's top-rated passer. The other NFC quarterback will be Aaron Rodgers, who replaced Favre in Green Bay last year.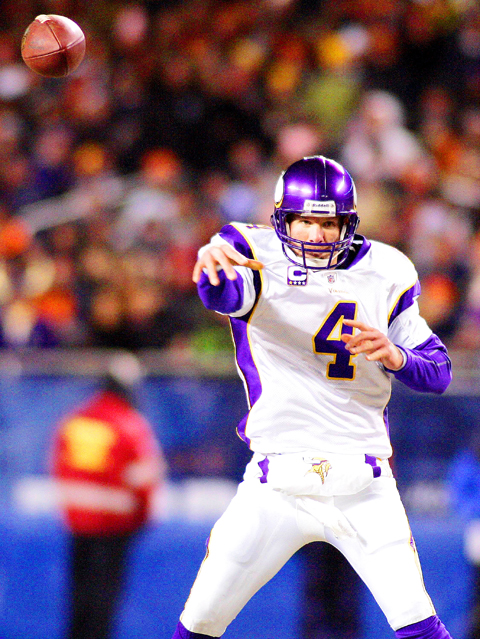 Minnesota Vikings quarterback Brett Favre throws a pass against the Chicago Bears in the first quarter of their NFL game at Soldier Field in Chicago, Illinois, on Monday.
PHOTO: REUTERS
Tennessee running back Chris Johnson, the league's leading rusher, also made the AFC team, along with NFL receptions leader Wes Welker of New England. Manning will be backed up as AFC quarterback by New England's Tom Brady and San Diego's Philip Rivers.
All six of the quarterbacks made the playoffs and, of course, would prefer to be playing in the Super Bowl on Feb. 7 in Miami. The Pro Bowl has been moved to the preceding Sunday at Dolphin Stadium, and no Super Bowl participants will play in the all-star game.
Vikings running back Adrian Peterson, the league's top scorer among non-kickers, will be in the NFC backfield. The other Vikings who made it: Wide receiver Sidney Rice, defensive end Jared Allen, guard Steve Hutchinson, defensive tackle Kevin Williams, special teamer Heath Farwell and tackle Bryant McKinnie.
Dallas and Philadelphia had the next most players on the NFC roster with six each, followed by top-seeded New Orleans with five.
There were 13 first-timers chosen in the NFC in voting by fans, coaches and players.
Carolina Panthers defensive end Julius Peppers has earned another US$1.5 million by making his fifth Pro Bowl, pushing his NFL-high salary to US$18.2 million this season. Peppers has 10.5 sacks and was voted an NFC starter.
Nobody made it from Atlanta, Seattle, Tampa Bay or Detroit.
The other Colts on the AFC roster were tight end Dallas Clark, defensive ends Dwight Freeney and Robert Mathis, wide receiver Reggie Wayne and center Jeff Saturday.
Comments will be moderated. Keep comments relevant to the article. Remarks containing abusive and obscene language, personal attacks of any kind or promotion will be removed and the user banned. Final decision will be at the discretion of the Taipei Times.