Life at the top getting tougher for 'Big Four'
As Rafael Benitez shielded his face from the ice cold wind whipping around Fratton Park, the Liverpool manager's grimace told its own story — the end of 2009 couldn't come soon enough.
Benitez's side had lurched from one calamity to another for several months, but finally hit rock bottom in a 2-0 defeat at lowly Portsmouth last Saturday.
That abject performance revealed the true extent of the crisis gripping Anfield and also provided concrete evidence that the Premier League's superpowers can no longer take for granted their positions of pre-eminence.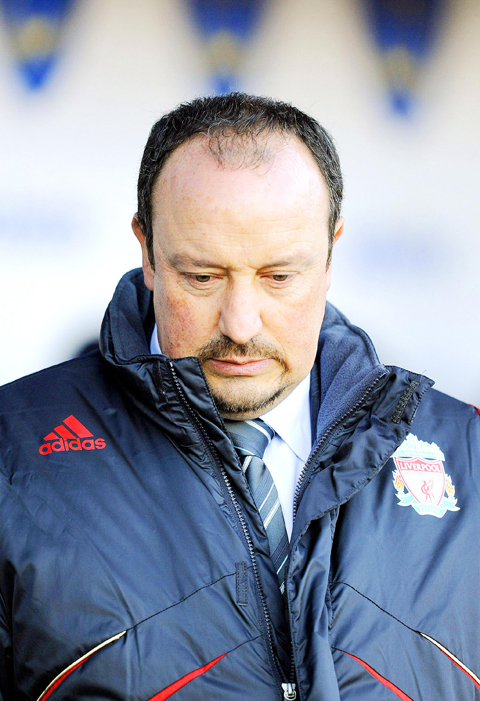 Liverpool manager Rafael Benitez contemplates his side's defeat against Premier League opponents Portsmouth at Fratton Park in Portsmouth, England, last Saturday.
PHOTO: REUTERS
Manchester United, Liverpool, Arsenal and Chelsea have monopolized England's major prizes for much of the decade, but Aston Villa, Tottenham Hotspur and Manchester City are all now rich and hungry enough to change that.
As if that wasn't enough to concern the big guns, the league's more unfashionable outfits are also ruffling a few feathers, with Fulham, Wigan Athletic, Sunderland and Burnley claiming big four scalps this season.
Villa, cleverly led by boss Martin O'Neill, have beaten Liverpool, Manchester United and Chelsea, and look the most likely candidates to claim one of those top four places this season, but Tottenham, successful big spenders under Harry Redknapp, can also mount a strong case for breaking through.
City's decision to replace Mark Hughes with former Inter coach Roberto Mancini represents a significant gamble, but the club's Abu Dhabi owners are in a hurry to make their mark and will hand the Italian substantial funds when the transfer window reopens next month.
Liverpool look the most likely to lose their lucrative place in top four and their fall from grace best illustrates the shift in power.
They are out of the Champions League and languishing in eighth place in the league, eight points behind fourth placed Villa and 14 points adrift of leaders Chelsea, after losing seven times already this term.
Hamstrung by injuries to Steven Gerrard and Fernando Torres, Benitez has paid the price for failing to build a strong enough squad to cope with the absence of key players and is in grave danger of losing his job if Liverpool fail to secure Champions League qualification.
After being widely written off as a fading force in preseason, Arsenal have performed better than expected, but Robin van Persie's ankle injury has left Arsene Wenger's young Gunners, without a trophy since 2005, looking just as vulnerable as last season, when they needed a late Villa meltdown to finish fourth.
Even Manchester United and Chelsea have been far from invincible in recent weeks.
Chelsea have won just once in six matches and boss Carlo Ancelotti is growing increasingly concerned at his team's careless defending.
Ancelotti arrived from AC Milan in preseason as successor to Guus Hiddink, who earned cult hero status during his brief reign as caretaker manager and led the club to an FA Cup final victory over Everton in May.
After a superb start to the season, however, Ancelotti's men have suffered from too many self-inflicted wounds to be regarded as champions in waiting just yet.
The same can be said of United, who trail Chelsea by four points and have lost five times in the league after being beaten only four times in the whole of last season.
The feeling remains that Cristiano Ronaldo's close-season departure to Real Madrid for a world record fee of £80 million (US$128 million) has taken a substantial toll on a squad now worryingly short of inspiration.
For a while this year, United were on course for an unprecedented haul of five trophies, but after following their Club World Cup and League Cup triumphs with a third successive Premier League title, Sir Alex Ferguson's team, beaten in the FA Cup semi-finals against Everton, were out-classed by Barcelona in the Champions League final.
United still carry scars from that defeat, but their place in the top four should remain secure. The same can't be said for Liverpool and Arsenal heading into the New Year.
Comments will be moderated. Keep comments relevant to the article. Remarks containing abusive and obscene language, personal attacks of any kind or promotion will be removed and the user banned. Final decision will be at the discretion of the Taipei Times.