Mayweather-Pacquiao bout off
BLOOD-TEST BALLYHOO Manny Pacquiao's promoter, Bob Arum, accused the camp of Floyd Mayweather Jr of using blood-testing demands to duck the proposed fight
The WBO welterweight title bout between Floyd Mayweather Jr and Manny Pacquiao next March will not go ahead because of the American's demands for Olympic-style dope testing procedures, promoter Bob Arum said on Wednesday.
Arum, who represents the Filipino champion, said using blood tests for the highly anticipated fight on March 13 was unprecedented for professional fights in Las Vegas.
"As far as I'm concerned, the fight is off," Arum said in a telephone interview. "We don't object to more extensive drug testing, even though it's certainly not required in Nevada. What we're saying is that the drug testing he is proposing is intrusive and would disturb Pacquiao's training if it's done within 30 days of his fight."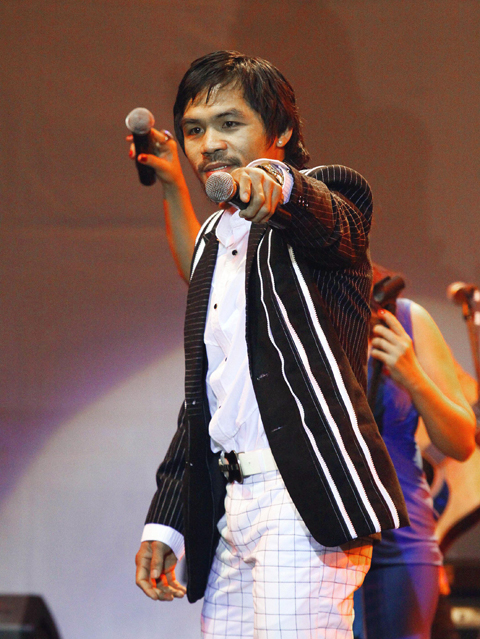 Philippine boxing icon Manny Pacquiao performs during his birthday party in General Santos City, Philippines, on Thursday last week.
PHOTO: AFP
Pacquiao had agreed to have blood taken for testing before the initial media conference and after the fight, but would not agree to have blood drawn within 30 days of the bout.
Mayweather's camp, represented by Golden Boy Promotions, has called for random blood and urine sampling prior to and after the fight as mandated by the US Anti Doping Agency.
Arum suggested the testing demands by Mayweather were the American's way of ducking the fight.
"My gut feeling is Mayweather doesn't want to do the fight and this is his excuse. Period," he said.
Pacquiao was to defend the WBO title he won last month by stopping holder Miguel Cotto in the 12th round in Las Vegas for his unprecedented seventh title in seven weight classes.
The best pound-for-pound showdown between Pacquiao (50-3-2) and unbeaten Mayweather (40-0) was expected to be among boxing's biggest revenue-producing fights ever.
Arum said he could not agree with the testing demands as a matter of protection for Pacquiao, who believes blood testing would weaken him that close to a bout.
The promoter said more extensive testing agreeable to Pacquiao could have been arranged.
"We're saying let's use the drug testing agencies that test athletes in the NFL, NBA or Major League Baseball, because they are used to dealing with professional athletes and they take random urinalysis," Arum said. "That is far less intrusive than taking blood which has an effect on the athlete because it's not just a prick of a pin, but actually drawing an extensive amount of blood."
Arum said he was not confident about a compromise, as he saw Mayweather's blood-testing demands as a way to "sabotage" the bout.
Comments will be moderated. Keep comments relevant to the article. Remarks containing abusive and obscene language, personal attacks of any kind or promotion will be removed and the user banned. Final decision will be at the discretion of the Taipei Times.