S Africa, England facing tricky decisions
PACE ACE South African bowler Morne Morkel is a potential match-winner, having bounced back after being dropped last season following inconsistent performances
South Africa and England both face tricky decisions ahead of the first Test of a four-match series, starting at SuperSport Park today.
South Africa have to decide whether to play star all-rounder Jacques Kallis, who is recovering from a rib injury. If he plays it will almost certainly be as a batsman only, which would probably mean South Africa going into the Test with only four recognized bowlers.
England, too, must decide whether they can afford to pick only four bowlers, especially as two of the likely attack, James Anderson and Ryan Sidebottom, have only bowled in one innings after recovering from injuries.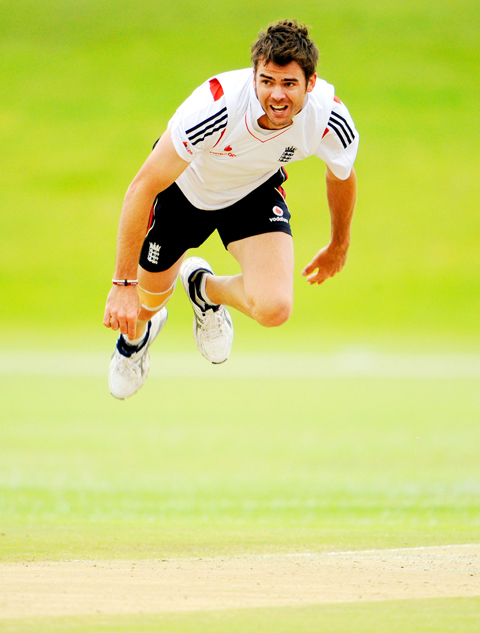 England's James Anderson bowls during a training session at the High Performance Center at the University of Pretoria on Monday.
PHOTO: REUTERS
BACKUP
If England want to ensure back-up for the specialist bowlers, they will have to hand a first cap to all-rounder Luke Wright at the expense of a specialist batsman.
The preparation of both teams, and the opportunity to provide a workout for players whose places are up for debate, was frustrated by heavy rain on Monday which cut short England's net practice and prevented the South Africans from going outdoors.
Rain has been a major factor in all three Test matches between South Africa and England at Centurion, with two matches drawn, the only exception coming in 1999-2000 after then-South African captain Hansie Cronje engineered a contrived result in dubious circumstances after three days of play were washed out.
The three matches against England are the only Tests at Centurion not won by South Africa, who have achieved 11 victories at the ground.
The weather forecast for the days of the coming Test is largely favorable, however.
Pace bowlers usually get some assistance at Centurion, while spin bowlers can rely on reasonable bounce.
England will go into the Tests with confidence high after winning a one-day series and performing well in warm-up matches, while South Africa have been afflicted by some sub-standard performances.
VULNERABLE TAILS
Both teams have reasonably solid top order batting but potentially vulnerable tails, so the bowlers will have a vital role.
South African fast bowlers Dale Steyn and Morne Morkel are potential match-winners but Steyn has been struggling with a hamstring injury, while Morkel was dropped last season after bowling inconsistently. Morkel, however, has shown good form in the current season.
England's key bowler is likely to be Anderson, who has been outstanding for his country recently, while Stuart Broad is a potential match-winner who has yet to hit top form on the tour.
Comments will be moderated. Keep comments relevant to the article. Remarks containing abusive and obscene language, personal attacks of any kind or promotion will be removed and the user banned. Final decision will be at the discretion of the Taipei Times.