S Korea dominate taekwondo events, but Taiwan's Tseng sneaks away with gold
South Korea went within one win of sweeping the taekwondo competition yesterday at the East Asian Games, clinching five out of six gold medals on offer.
The South Koreans won in the women's 55kg, the men's 62kg, the men's 67kg, the women's 63kg and the men's 72kg classes.
Taiwan's Tseng Pei-hua won gold in the 59kg class when she beat South Korea's Lee Sung-hye.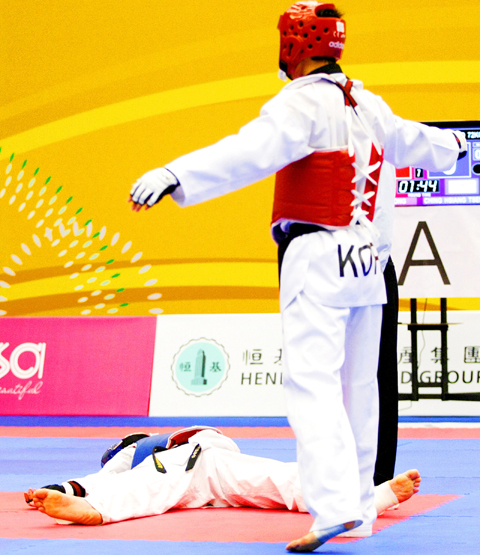 Taiwan's Tseng Ching-hsiang lies on the floor after being knocked out by South Korea's Song Ji-hoon, right, in the men's under 72kg final at the East Asian Games in Hong Kong yesterday.
PHOTO: REUTERS
South Korea has now accounted for seven of the 10 judo gold medals contested after winning two finals on Sunday.
Elsewhere, South Korea also picked up a bowling gold, with Hwang Sun-ok and Shin Bo-hyun posting a one-two finish in the women's singles.
China's Zhu Qinan won the men's 10m air rifle with a games-record 703.1 points.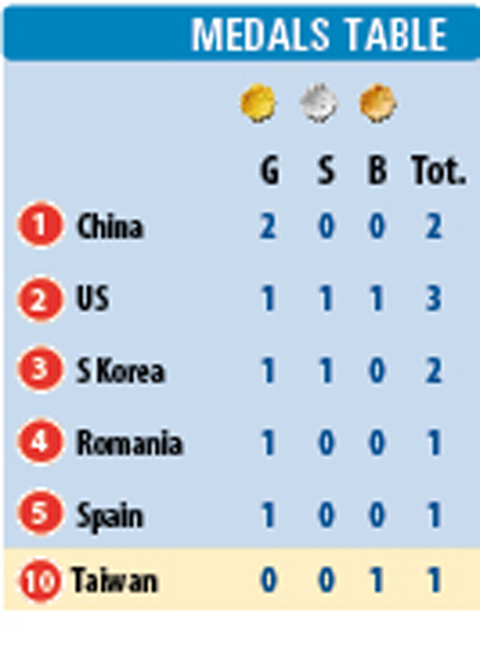 Chinese women's weightlifter Yang Lian claimed the 48kg division, lifting a combined weight of 202kg, 10kg more than runner-up Chen Wei-ling of Taiwan.
International Olympic Committee (IOC) chief Jacques Rogge hailed "an absolutely smashing" opening to the games on Saturday.
Rogge said the opening ceremony, which took place on the waterfront of Victoria Harbour, was as good as any he had seen before.
"It was an absolutely smashing and brilliant opening, very nice choreography, very original, creative and probably the nicest backdrop you can ever dream of," he said of the event. "I have seen many opening ceremonies in my long career with the Olympics. And this deserves a gold medal."
Publication Notes
Yesterday's Taiwanese medalists
MONDAY, DEC. 7
Table Tennis Men's Doubles
Silver: Chiang Peng-lung,
Wu Chih-chi
Table Tennis Men's Singles
Bronze: Chiang Hung-chieh
Taekwondo 59kg Women
Gold: Tseng Pei-hua
Taekwondo 63 kg Women
Silver: Chang Chiung-fang
Taekwondo 72 kg Men
Silver: Tseng Ching-hsiang
Taekwondo 55kg Women
Silver: Tseng Yi-hsuan
Taekwondo 62kg Men
Bronze: Tseng Kuan-chieh
Taekwondo 67kg Women
Bronze: Lo Tsung-jui
Weightlifting 62kg Men
Silver: Yang Sheng-hsiung
Weightlifting 48kg Women
Silver: Chen Wei-ling
Weightlifting 56kg Men
Silver: Yang Chin-yi
Comments will be moderated. Keep comments relevant to the article. Remarks containing abusive and obscene language, personal attacks of any kind or promotion will be removed and the user banned. Final decision will be at the discretion of the Taipei Times.