NHL: Unbeaten Saints squeak past Redskins in overtime
SKIN OF THEIR TEETH The Saints barely held on to their unbeaten record as they trailed Washington the entire game to tie at the end and win with a field goal
Garrett Hartley kicked an 18-yard field goal in overtime as the unbeaten New Orleans Saints rallied to defeat the Washington Redskins 33-30 on Sunday.
The Saints (12-0) never led in the game until Hartley made his fourth field goal of the game six minutes, 29 seconds into overtime.
New Orleans and the Indianapolis Colts are the NFL's only unbeaten teams.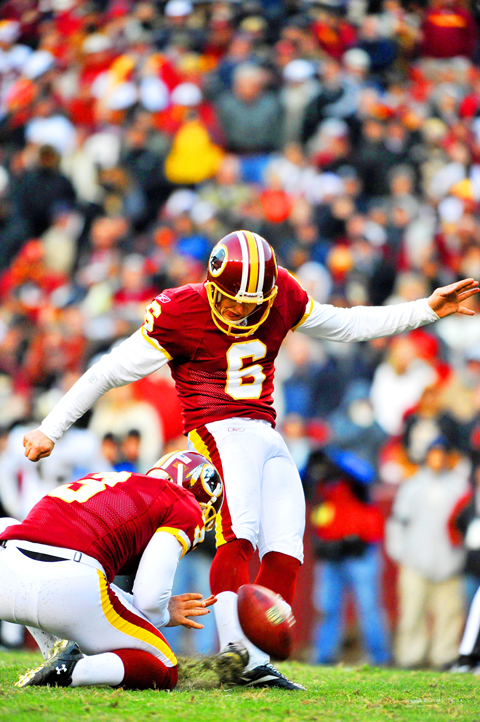 Shaun Suisham, No. 6, of the Washington Redskins misses a late 4th quarter field goal against the New Orleans Saints at FedEx Field on Saturday in Landover, Maryland.
PHOTO: AFP
"They had us on our heels and we were fortunate to hang in there," Saints coach Sean Payton told reporters.
New Orleans trailed by 10 points deep into the fourth quarter, but Drew Brees' 53-yard pass to Robert Meachem and a Hartley extra point with one minute, 19 seconds remaining tied the score at 30-30 and forced over time.
Underdog Washington (3-9) could have iced the game seconds earlier, but Shaun Suisham was wide right on a 23-yard field goal attempt that would have given the Redskins a 33-23 lead with one minute, 52 seconds to play in regulation.
"The missed field goal was huge and gave us life and Drew marched us right down there and made some big plays," said Payton, whose team clinched the National Football Conference (NFC) South title with the win. "There is a lot of confidence in the team right now and they wouldn't quit and just kept clawing their way back in there."
Washington fumbled away its final chance in overtime when replay officials ruled Mike Sellers had lost the ball after a pass from Jason Campbell at the Redskins' 37-yard line.
New Orleans then marched to the Washington one-yard line before giving Hartley a chance to seal the comeback.
"It was a great game," Redskins coach Jim Zorn said. "It just feels awful to stand up here and be the losing head coach again."
The loss was the seventh in eight games for the Redskins, who were kept in the game by Campbell's three touchdown passes.
Washington led 10-0 after the first quarter and was ahead 30-20 early in the fourth before Brees, who passed for a season-high 419 yards and two scores, brought the Saints back.
Meachem scored twice, once on a 44-yard fumble return to tie the score at 17-17 at half time, then on the game-tying pass from Brees.
He caught eight of Brees' 35 completed passes for 142 yards.
Campbell threw for 367 yards for Washington.
His eight-yarder to Fred Davis produced the game's first touchdown and he later tossed five and 13 yard touchdown passes to Devin Thomas, who had 100 yards receiving.
COLTS 27, TITANS 17
At Indianapolis, the Indianapolis Colts tied the NFL record for longest winning streak, beating Tennessee for its 21st consecutive regular-season victory.
The only other team to win that many in a row: New England from 2006 to last year. The Colts can break the record next week at home against Denver.
Peyton Manning threw one touchdown pass, Joseph Addai ran for two scores and the Colts spent the second half protecting the lead against the Titans.
CARDINALS 30, VIKINGS 17
At Glendale, Arizona, Kurt Warner, back after missing a game with a concussion, threw for 285 yards and three touchdowns as Arizona's defense stifled Brett Favre and Minnesota in a stunningly one-sided victory.
Favre set an NFL record for consecutive appearances, but game No. 283 in a row was no night to remember for him or the rest of the Vikings. The 40-year-old quarterback, with just three interceptions in the first 11 games, was picked off twice and sacked three times.
Even more startling, Arizona held Adrian Peterson to a season-low 19 yards in 13 carries and outrushed Minnesota 113-62.
RAIDERS 27, STEELERS 24
At Pittsburgh, Louis Murphy caught an 11-yard touchdown pass from Bruce Gradkowski with nine seconds remaining, his second score in the final five-and-a-half minutes as Oakland scored three late touchdowns to deal Pittsburgh its fourth consecutive loss.
In other NFL play, it was:
• Dolphins 22, Patriots 21
• Eagles 34, Falcons 7
• Giants 31, Cowboys 24
• Chargers 30, Browns 23
• Bengals 23, Lions 13
• Jaguars 23, Texans 18
• Panthers 16, Buccaneers 6
• Bears 17, Rams 9
• Broncos 44, Chiefs 13
• Seahawks 20, 49ers 17
Comments will be moderated. Keep comments relevant to the article. Remarks containing abusive and obscene language, personal attacks of any kind or promotion will be removed and the user banned. Final decision will be at the discretion of the Taipei Times.