Age proves no barrier at Masters Games
CENTENARIAN Ruth Frith mustered a throw of 4.07m to win the shot put gold medal, although she was the only competitor in the 100-104 age group
There's a 100-year-old shot putter, a 90-year-old sprinter and a swimmer who lost a leg in a shark attack 35 years ago.
Welcome to the World Masters Games where people from all backgrounds have come together just for the sheer joy of competing.
It's a massive logistical exercise with more than 28,000 competitors from 95 countries, the vast majority of them Australian, competing in a celebration of sport and goodwill.
Canada's Noel Morrow, 90, wins the women's 100m backstroke at the World Masters Games at the Olympic Park Aquatic Centre in Sydney on Monday. Morrow won another gold in the same pool at the British Empire Games 70 years ago.
PHOTO: EPA
They span a 77-year age range, from the youngest, 24-year-old Canadian swimmer Facundo Chernikoff, to the oldest, 101-year-old Australian lawn bowler Reg Trewin.
The 28,200 participants, the biggest attendance ever, makes the seventh Games almost three times the size of the Sydney Olympics in terms of competitor numbers.
There are some amazing and heart-warming stories as a little bit of the magic of the 2000 Games is recreated in the harborside Olympic city.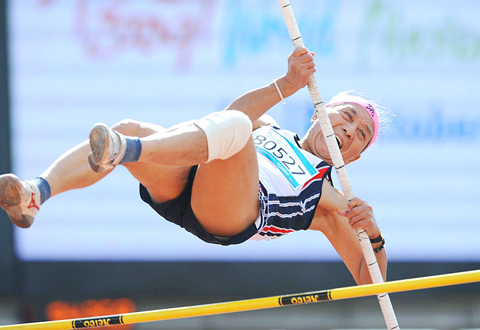 Hiroshi Miyamoto of Japan, 84, takes part in the men's 80-84 Pole Vault on Monday at the World Masters Games in Sydney. Miyamoto won silver behind compatriot Toriya Munehiro.
PHOTO: EPA
Take Olga Kotelko from Vancouver. She won her age group in both the 100m and shot put.
The 90-year-old, who started competing at 77, broke the world record with her 5.64m throw and ran her race in 23.95 seconds.
"There was no-one else my age, but it felt really good and I'm quite pleased. I also beat an 80-year-old," Olga beamed.
It's her fourth time competing in Australia and she has entered nine events.
"It's all about meeting new friends and catching up with old ones and I like the competition. I still feel fit, healthy and strong. There is no way I'm retiring any time soon," the former teacher said.
New Zealander Marcia Petley, 80, won her age 100m in 21.09 seconds after defying doctor's orders.
"I've been training six days a week since I split my leg open and I've got to replace my knee. I'm under instruction from my doctor not to run, but I'm going to prove him wrong," she said.
South African Damon Kendrick, 50, is giving it a go in the 800m freestyle, minus a leg he lost in a shark attack 35 years ago.
Australian great-grandmother Ruth Frith says she doesn't drink, smoke or eat vegetables, but at 100 years of age, the oldest female competitor at the Games, she mustered a throw of 4.07m to take the shot put gold medal.
It didn't matter a jot to the cheering spectators that Ruth was the only female competitor in the women's 100 to 104 aged shot-put event.
Competitors may have travelled from all parts of the globe for the Games but Carl Heberl, 69, walked to Sydney from his home in Gympie, Queensland, 1,100km away.
Heberl thought it would be ideal preparation for his four athletic events, including a half marathon.
Even royalty is in on the act with Denmark's sailor-prince Frederik coming to compete in the open 35-years-plus Tasar sailing event on Sydney Harbor.
Crown Prince Frederik, who met his Australian-born wife, Mary Donaldson, while competing at the 2000 Sydney Olympics, is revelling in the not-so-serious atmosphere of the World Masters Games.
He knows his presence at the Games is causing a stir, and admits, "I'm fine with being the bait."
The spirit of the Games was too much of a pull for Australia's former 400m relay gold medallist Daniel Kowalski.
Kowalski, 34, had no intention of competing when he strolled into the Sydney Olympic Pool where he won gold nine years ago, but within minutes he was buying himself a new set of swimming togs and goggles.
He was so gripped by the desire to relive the moment that he made a late application to compete, and duly won the 30-34 year 800m.
Comments will be moderated. Keep comments relevant to the article. Remarks containing abusive and obscene language, personal attacks of any kind or promotion will be removed and the user banned. Final decision will be at the discretion of the Taipei Times.