Dolphins win thriller in Miami
YOUNG GUNS Chad Henne, who earned his second win in as many games, overshadowed Mark Sanchez in their battle of the quarterbacks
A Ronnie Brown touchdown six seconds from the end gave the Miami Dolphins a thrilling 31-27 win over AFC East rivals the New York Jets on Monday.
Miami quarterback Chad Henne, making just his second start in the league after injury to first choice Chad Pennington, gave an accomplished performance, throwing for 241 yards and two touchdowns.
The Dolphins emerged victorious from a pulsating, 35-point fourth quarter in front of a raucous 69,767 crowd to improve their record to 2-3 while the Jets slipped to 3-2.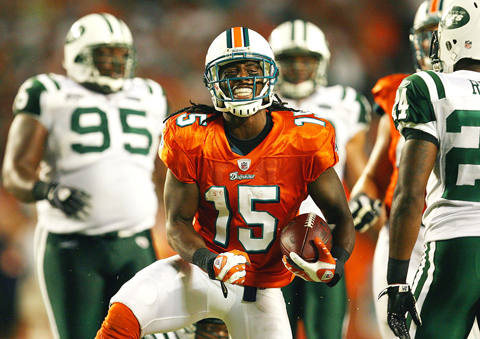 Wide receiver Davone Bess of the Miami Dolphins celebrates after making a catch against the New York Jets during their game on Monday at Land Shark Stadium in Miami. The Dolphins defeated the Jets 31-27.
PHOTO: AFP
On a night billed as a duel between two young quarterbacks, Jets' rookie Mark Sanchez, who threw for 172 yards and one touchdown, was overshadowed by the gritty yet cool Henne.
Henne, back-up to Pennington in his rookie year last season, did exactly what a team reliant on their running game need from their quarterback, completing 20 of 26 passing attempts and giving up no interceptions.
The Jets, who showed plenty of imagination with two well-worked fake punts, led 13-10 at half-time — edging ahead with two second quarter field goals after their debutant wide-receiver Braylon Edwards had cancelled out Brown's opening touchdown.
After a scoreless third quarter, the game became a shoot out in the fourth with the result always in the balance.
Twice the Dolphins got in front, with touchdowns from Anthony Fasano and Ted Ginn, the latter on a beautiful 53 yard throw from Henne, but twice the Jets restored a three-point lead with Thomas Jones running over for touchdowns — both after strong plays from the dangerous Edwards.
Edwards joined the Jets last week in a trade with the Cleveland Browns, hoping to revitalise his career and he showed he could be a deep threat for the team.
Jones's first touchdown came when Edwards superbly took a 35-yard pass from Sanchez over his shoulder and celebrated a touchdown but after a challenge from the Dolphins, the official ruled the receiver had grounded his knee a yard short — Jones made up the yard.
Then Edwards was well positioned to take a 49-yard pass from Sanchez into the end zone but pass interference from Will Allen foiled him and again Jones went over from close range.
It could easily have been a trio of touchdowns for Edwards in a Jets victory but that was not to be the story of the night as Miami marched their way down the field in search of a game-winning touchdown.
On a crucial third down, Henne delivered a superb 12-yard pass to Greg Camarillo, setting up Brown on a wildcat play to run over for the winning touchdown and give Henne his second win in as many games.
Comments will be moderated. Keep comments relevant to the article. Remarks containing abusive and obscene language, personal attacks of any kind or promotion will be removed and the user banned. Final decision will be at the discretion of the Taipei Times.