NFL: Trojan's Johnson survives horrific training accident
A US college gridiron star was recovering in a hospital on Tuesday after seven hours of emergency surgery following a weightlifting accident at the University of Southern California.
USC Trojan running back Stafon Johnson was listed in stable condition on Tuesday after having his throat crushed by a weight bar on Monday.
The 21-year-old was on his back doing a series of bench presses in the gym when the bar slipped out of his hands and landed on his neck.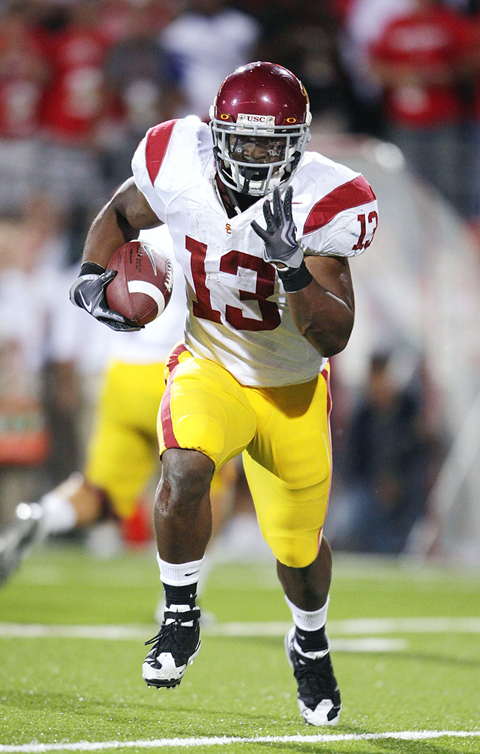 USC Trojan running back Stafon Johnson scores on a two yard run against the Ohio State Buckeyes in Columbus, Ohio, on Sept. 12.
PHOTO: AFP
Johnson, who leads the Trojans in touchdowns with five, was spitting up blood through his mouth and nose and was rushed to California Hospital Medical Center for surgery.
Dr Gudata Hinika said Johnson's athletic build helped him survive the ordeal.
"Had that been any one of us, meaning me, we would have not survived," Hinika told ESPN television. "His neck was so solid, so muscular ... and the discipline that one learns from being athletic also really helped him to calm down and just do what he needed to do.
"He took instruction very well," Hinika said. "All this combination and his physical fitness contributed to his outcome."
Johnson will have to undergo extensive therapy to try and get his speech back.
USC head coach Pete Carroll told the Los Angeles Times that doctors told him that Johnson would be able to play football again, but probably not for the Trojans. Johnson, who has carried the ball 32 times for 157 yards this season, is in his senior year of college.
"This guy is an expert lifter," Carroll said. "He just lost control of the bar on his first rep of his last set and dropped on him."
Johnson's complex surgery involved realigning his larynx.
"None of us really think about what's going on in your throat," Carroll said. "But from the things that control speech and breathing and digestion and all of the different issues, everything got affected to some extent. So it's hard to imagine what the doctors were working with to try to get everything back and reconstructed the way it needs to be."
Comments will be moderated. Keep comments relevant to the article. Remarks containing abusive and obscene language, personal attacks of any kind or promotion will be removed and the user banned. Final decision will be at the discretion of the Taipei Times.