FEATURE : Historic stadium reborn as apartment complex
The former home of Arsenal, one of England's most historic soccer clubs, has undergone a remarkable conversion into apartments — but their sales have been caught offside by the credit crunch.
The final whistle blew on Highbury Stadium in north London on May 6, 2006, ending 93 years of rich soccer tradition, but the roar of the crowd soon gave way to the noise of diggers as the developers moved in.
Space once filled by 38,000 cheering fans now contains Highbury Square, a complex of 725 luxury apartments — including 70 units of social housing — surrounding a landscaped garden where the old pitch lay.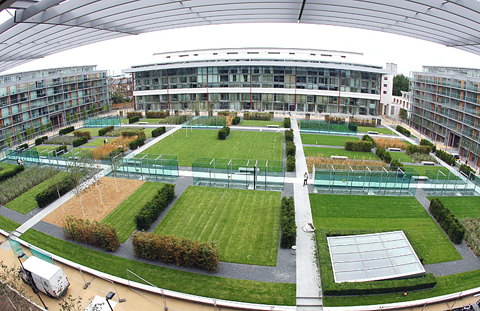 Highbury Square, Arsenal FC's former stadium, is pictured after being converted into an apartment complex. Sales of the apartments have been caught offside by the credit crunch.
PHOTO: AFP
"You feel this could have been completely destroyed, this could have disappeared completely and [yet] there's still enough here to realize that it is a museum of Arsenal Football Club," Arsenal manager Arsene Wenger said.
He returned to the stadium to officially open the development alongside current and former players including Gael Clichy, George Graham, who also managed the club to two English league titles, and Martin Keown — and admitted the venue still stirred deep emotions in him.
"When you come in here, you realize how deep the attachment to this place was," said Wenger, who has managed the Gunners since 1996.
"It's good to be back, I feel 12 years younger coming back to where I started."
The art deco facades of the East Stand are listed buildings, classified as being architecturally, historically or culturally important and cannot be knocked down.
That impeded Arsenal's options for expanding the ground's capacity and in part triggered their departure from Highbury.
The new development therefore has preserved the art deco facades bearing the Gunners' crest, as well as the famous Marble Halls inside the East Stand.
However, these character details may not be able to counteract the effect of the recession on sales, which started well but have since dropped off.
In February, the club admitted sales were running below projections, and about 10 percent of the apartments — costing from £250,000 (US$400,000) to more than £1 million — remain unsold.
Three hundred are currently lived in.
"It's true that quite a few of the flats haven't been sold, most likely because we are in the middle of a financial crisis," Wenger said. "But I think that soon, we will have good news on that front."
Arsenal's chief executive, Ivan Gazidis, said the club's latest financial results were due out soon and without giving details, suggested they would reflect some recent good news for the project.
"There's been some very positive developments in recent weeks, in recent months," he said. "We're seeing sales progressing well, and the development is on a sound financial footing."
The redevelopment of Highbury was meant to pay back the £135 million loan used to finance the construction of the Emirates Stadium, a 60,000-capacity, modern arena located a short walk away.
And the need to balance its books has apparently led the club to extend a hand to potential buyers in a bid to boost sales.
"I reckon I've got a good deal," said Tim Collings, who bought an apartment for about £500,000 after receiving a discount of £80,000 and free parking worth £37,000. "I was happy."
Comments will be moderated. Keep comments relevant to the article. Remarks containing abusive and obscene language, personal attacks of any kind or promotion will be removed and the user banned. Final decision will be at the discretion of the Taipei Times.