Olympic boxing medalist found hanged in London
Irish Olympic medal winning boxer Darren Sutherland was found hanged at his London home on Monday, his manager and police said, as the sport paid tribute to a "magnificent talent" and a "gentleman."
Manager Frank Maloney said he had discovered the champion boxer's body in Bromley in south London, and described the 27-year-old's death "as a tragedy for Ireland and the world of boxing."
"It is very sad and unexpected," Maloney said in a statement. "At this sad time my thoughts are with Darren's family and I hope their privacy at this very difficult time will be respected by the media."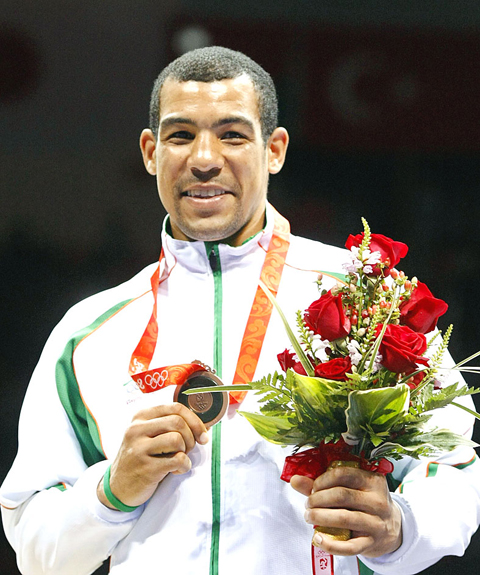 Darren Sutherland of Ireland celebrates with his bronze medal after the men's middleweight boxing final at the Beijing Olympics on Aug. 23 last year.
PHOTO: REUTERS
"It is a tragedy for Ireland and the world of boxing," he said.
A Metropolitan Police spokesman said his death was not being treated as suspicious and his family have been informed.
Sutherland won bronze for Ireland in the middleweight division at last year's Beijing Olympics, losing to Great Britain's James DeGale in the semi-finals.
He announced after winning the medal that it would be his last ever amateur bout. The fighter made his professional debut in Dublin in December, winning by a knockout.
Sutherland, a two-time EU amateur champion, went on to win his next three professional bouts. Under Maloney's guidance and based in London, Sutherland was being fast-tracked to the top ranks of the pro-circuit.
"I want to go all the way," Sutherland said on the day he turned pro. "There's no point starting out if you don't believe you can win a world title. That's where I want to go."
DeGale, who went on to win gold in Beijing, said he was stunned to learn of Sutherland's death."
"I just could not believe it; my heart went to the floor when I heard," he said.
"I just do not know what to say except that he was a brilliant fighter, in fact an excellent fighter, and he was a gentleman outside the ring as well," DeGale said.
"He had an Olympic bronze medal and his whole life to look forward to. He had a great future and my heart goes out to everyone who knew him," he said.
Irish Minister for Sport Martin Cullen said the country had lost a "magnificent talent."
"Ireland has lost a sportsman of wonderful ability, a clever and popular man with a future of real potential. His early death deprives us of a magnificent talent. May he rest in peace," the minister said in a statement on Irish broadcaster RTE's Web site.
Publication Notes
CPBL
Yesterday's result
• Uni-President Lions v Sinon Bulls (postponed to Oct. 12)
Today's game
• La New Bears v Brother Elephants (Hsinchu, 6:30pm)
Comments will be moderated. Keep comments relevant to the article. Remarks containing abusive and obscene language, personal attacks of any kind or promotion will be removed and the user banned. Final decision will be at the discretion of the Taipei Times.