Sharapova fails comeback attempt
SCREECHING HALT Russian Maria Sharapova served up nine double faults in the first set as compatriot Elena Dementieva denied her first title chance in more than a year
Russian Elena Dementieva picked up her third title of the year and denied compatriot Maria Sharapova a comeback win with a 6-4, 6-3 victory in the final of the Toronto Cup on Sunday.
Dementieva's victory was just the third in nine meetings against Sharapova, who was playing for a title for the first time since Amelia Island in April last year as she continued her return from shoulder surgery.
It is the 14th career title for Dementieva and comes with a good omen, with the three past winners of the Toronto tournament going on to capture the US Open.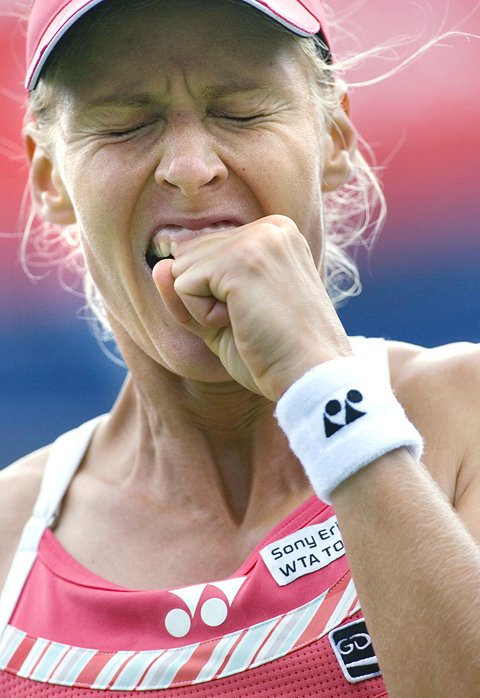 Russia's Elena Dementieva winces during the final before defeating compatriot Maria Sharapova 6-4, 6-3 to win the Rogers Cup in Toronto on Sunday.
PHOTO: AP
"I felt like Lleyton Hewitt today. I was fighting for every point, so many long rallies, it's not the game I like to play," Dementieva told reporters. "I was just waiting for my chances and didn't rush. This kind of win gives you a lot of confidence, so right now it is all about recovery and getting ready for New York."
Working her way back to top form after nine months on the sidelines, Sharapova has made steady progress since she launched her comeback in May.
But the three-time grand slam winner showed in an uneven final that her game still needs sharpening as she served up nine double faults to Dementieva in the opening set.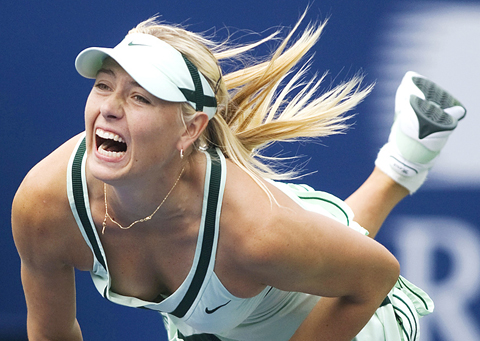 Maria Sharapova of Russia serves to compatriot Elena Dementieva during the final at the Rogers Cup in Toronto on Sunday.
PHOTO: REUTERS
Despite her service woes, Sharapova heads to Flushing Meadows on an upbeat note. She is guaranteed to be seeded at the US Open, moving up from her current 49th ranking into the top 32 by reaching the Toronto final.
"My mindset going into every single tournament is to be the champion and if you're not ready to do that and you're not ready to compete in six matches then I don't think you should be in the draw," Sharapova said. "With every tournament I've played in the summer I felt like was starting to play better and get a feel for the hardcourts. I've definitely improved over the weeks, with every match I felt like I stepped it up when I had and today I just came up a little short."
The first set produced little high quality tennis expected from two of the world's most accomplished players, as Sharapova (9) and Dementieva (5) combined for 14 double faults, seven service breaks and a truck load of unforced errors.
The second produced just one break by Dementieva in the sixth game to go up 4-2.
The Beijing Olympic champion then held her serve the rest of the way, closing out the contest on her third match point when a cheeky drop shot from Sharapova bounced off the net.
Comments will be moderated. Keep comments relevant to the article. Remarks containing abusive and obscene language, personal attacks of any kind or promotion will be removed and the user banned. Final decision will be at the discretion of the Taipei Times.