Cricket chiefs probe Australia betting claims
Officials at cricket's world governing body have confirmed they are looking into a report handed to them by Australia chiefs regarding a betting allegation during the Ashes series.
Australia contacted the International Cricket Council (ICC) after one of their players was approached by a man suspected of links to illegal bookmaking.
The Cricinfo Web site reported on Tuesday the approach was made in the bar of the team's London hotel following Australia's Ashes loss at Lord's last month.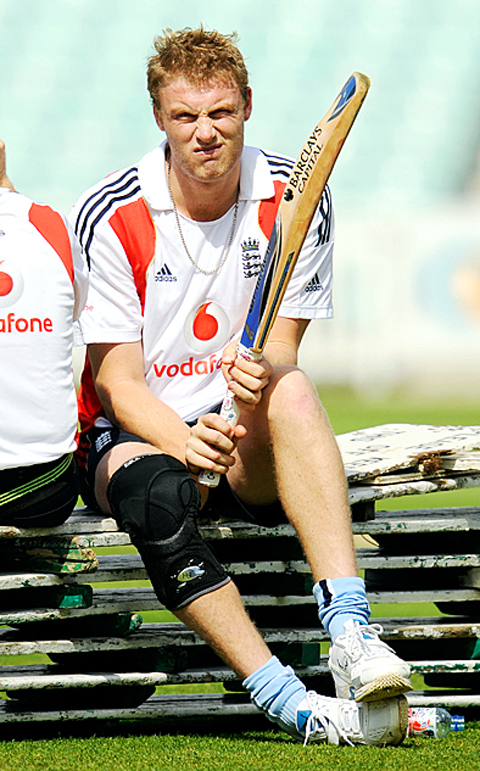 England's Andrew Flintoff takes a break during a training session yesterday before the fifth Ashes cricket Test match against Australia, which starts at the Oval in London today.
PHOTO: REUTERS
Immediately, the player alerted senior officials and, following ICC protocol, team manager Steve Bernard filed a report with the ICC's Anti-Corruption and Security Unit (ACSU).
The series is now all square at 1-1 ahead of the fifth Test, which starts at the Oval today. England must win to regain the Ashes, while Australia need only to avoid defeat to retain them.
An ICC spokesman said: "I can confirm the ACSU has received a report from Australia team management."
"The anti-corruption and security unit of the ICC has developed and implemented a fairly comprehensive education program for all international players and every single international player has undergone that education and is aware of his responsibilities to report any suspicious activity that he feels he may have been subject to," the official said. "It seems in this case that education has hit home and we have received a report that the ACSU will now investigate."
The ACSU, whose chairman Paul Condon is a former Commissioner of London's Metropolitan Police, was formed in 2000 in response to the match-fixing scandals involving then international captains Hansie Cronje, Salim Malik and Mohammad Azharrudin.
An unrelentingly dramatic Ash­es series with enough plot twists to satisfy the most demanding sports devotee reaches an appropriate climax today.
At a time when attendances for five-day matches are plunging worldwide, the fifth and final Test between England and Australia is a sellout and public interest in both countries is high.
England, for only the third time in cricket's oldest and most cherished rivalry, go into the final Test needing to win to regain the Ashes.
The home side scraped an unlikely draw in the first Test in Cardiff, then recorded an emphatic victory at Lord's for the first time in an Ashes Test since 1934. They took control at Edgbaston before a final-day rally by Australia secured an honorable draw and were then totally outplayed by the visitors at Headingley.
As a result of the fourth Test, Australia feel they can atone handsomely for their 2-1 defeat in the 2005 series and return home with a series victory on an Oval pitch that promises plenty of runs.
Australia captain Ricky Ponting said last week how much defeat had hurt in 2005 and he will be fully aware that only one Australian captain has lost two Ashes series in England.
Still, after Headingley, he has every reason to feel confident with the team he has helped reshape since Shane Warne, Glenn McGrath and Adam Gilchrist retired two years ago.
Comments will be moderated. Keep comments relevant to the article. Remarks containing abusive and obscene language, personal attacks of any kind or promotion will be removed and the user banned. Final decision will be at the discretion of the Taipei Times.