Papelbon pitches Red Sox out of a jam
IN TOUCH Texas dropped into a tie with Boston for the AL wild-card lead after the Red Sox beat the Blue Jays 10-9 and the Rangers lost 9-6 to the Twins on Tuesday
AMERICAN LEAGUE
The Boston Red Sox scored three runs in the eighth inning while Jonathan Papelbon pitched out of a jam in the ninth to beat the Toronto Blue Jays 10-9 on Tuesday and stay in the hunt for the American League wild card.
After shortstop Marco Scutaro pulled the Blue Jays within one run on a two-RBI single in the eighth, Toronto had two runners on base in the ninth before Papelbon held on for his 29th save.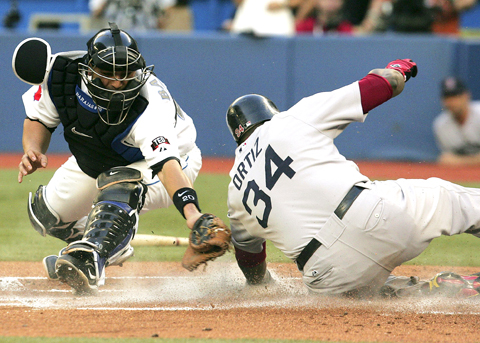 Boston's David Ortiz slides home safely as Toronto's Rod Barajas tries to tag him during the second inning of their American League game in Toronto, Canada, on Tuesday.
PHOTO: REUTERS
The victory helped Boston stay in touch with the Texas Rangers in the wild-card race.
Red Sox starter Josh Beckett gave up seven runs in 5-1/3 innings, with his game ending after allowing a two-run homer to Rod Barajas that tied the game 7-7.
Boston struck back, however, when they scored on a throwing error and then a sacrifice-fly from Jacoby Ellsbury in the eighth before catcher Victor Martinez, who finished 2-for-4, gave the team a three-run cushion with an RBI double.
Ellsbury finished with three RBIs.
YANKEES 7, ATHLETICS 2
At Oakland, California, New York's Derek Jeter had his third straight three-hit game and knocked in the go-ahead run to lift the Yankees to a 7-2 win over the Oakland Athletics.
Jeter's RBI single in the sixth broke a 2-2 tie and the Yankees went on to add four more runs that inning.
New York pitcher C.C. Sabathia got his first win at Oakland for six years, having had a 1-4 record and 7.12 ERA in eight starts there before Tuesday.
Sabathia gave up solo homers in the first two innings but gave up only three more hits in eight innings.
TWINS 9, RANGERS 6
In Arlington, Texas, Joe Mauer homered twice as Minnesota notched a key win over Texas.
Delmon Young hit a tiebreaking two-run shot in the seventh inning for the Twins, who are clinging to contention in the AL Central race.
Young also had a tying two-run double for the Twins, who piled up 12 hits and eight runs in the sixth, seventh and eighth innings as part of their rally from a 5-0 deficit.
Texas, who re-acquired its former All-Star catcher Ivan Rodriguez earlier on Tuesday in a trade with Houston, dropped into a tie with Boston for the AL wild-card lead.
Mauer started the seventh with his second leadoff homer of the game and finished 3 for 5 to keep his major league-leading average at .380.
Also on Tuesday, it was:
• Tigers 5, Mariners 3
• Angels 5, Indians 4
• Rays 5, Orioles 4
• Royals 5, White Sox 4
NATIONAL LEAGUE
AP, PHILADELPHIA
Jamie Moyer pitched six scoreless innings in relief of Pedro Martinez, who took his spot in the starting rotation, as the Phillies beat the Diamondbacks 5-1 on Tuesday.
A 66-minute rain delay ruined Martinez's home debut with the Phillies. He allowed one run in three innings in his second start since returning to the majors. He struck out three and retired the last eight batters he faced, but left after the long delay.
Pitching in a steady rain, Moyer (11-9) gave up two singles and struck out five in his first ­relief ­appearance in five years. He chipped in with two hits.
DODGERS 7, CARDINALS 3
At Los Angeles, Chad Billingsley allowed three hits over six innings and added an RBI single and Los Angeles snapped St Louis' five-game winning streak.
The Cardinals remained six games in front of Chicago in the NL Central.
Also on Tuesday, it was:
• Padres 6, Cubs 3
• Marlins 6, Astros 2
• Mets 9, Braves 4
• Rockies 4, Nationals 3
• Pirates 5, Brewers 2
• Giants 8, Reds 5, 10 innings
Comments will be moderated. Keep comments relevant to the article. Remarks containing abusive and obscene language, personal attacks of any kind or promotion will be removed and the user banned. Final decision will be at the discretion of the Taipei Times.