Schumacher 'really sad' about canceling comeback
Michael Schumacher called canceling his much-anticipated Formula One comeback a "really sad moment."
He had wanted to help the Ferrari team by replacing injured driver Felipe Massa but was unable to do so because of lingering pain from a motorcycle crash six months ago.
"It's a really sad moment," Schumacher said, before later expanding. "Probably one of the toughest that I've faced in my career, although I'm retired for the moment. I felt alive again and now I had to cancel all this."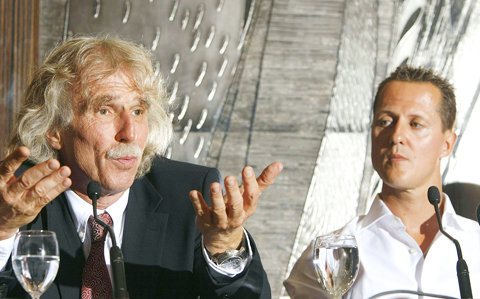 Former Formula One driver Michael Schumacher, right, listens as his doctor, Johannes Peil, speaks at a news conference in Geneva on Wednesday.
PHOTO: REUTERS
The German, who retired at the end of the 2006 season after a 15-year career in which he won 91 races in 250 starts, said any talk of later returning to F1 was speculation.
"From a purely medical point of view, there are no reasons why that couldn't be the case. But it's certainly not a topic that I'm considering right now," he said.
Schumacher, visibly subdued sitting between his doctor, Johannes Peil, and manager, Willi Weber, said the euphoria surrounding his possible return was "extreme, and so of course the disappointment is extreme, too."
Peil said it was a fracture at the base of Schumacher's skull that prevented the return, rather than the fractured vertebra and rib he also hurt in the bike crash earlier this year.
"We kept trying to keep the pain and the inflammation in check, ­including with drugs, but in the end it didn't work," Schumacher said.
It was too early to say whether the injuries would heal enough to allow Schumacher to make a later comeback, Peil said.
The decision for Schumacher to pull out came after he tested an old Ferrari at the Mugello circuit in Italy last week.
Ferrari will now promote test driver Luca Badoer, who Schumacher said was well-prepared to replace Massa.
Comments will be moderated. Keep comments relevant to the article. Remarks containing abusive and obscene language, personal attacks of any kind or promotion will be removed and the user banned. Final decision will be at the discretion of the Taipei Times.