Alex Rodriguez's walk-off home run wins marathon
AMERICAN LEAGUE
REUTERS, NEW YORK
Alex Rodriguez hit a two-run, walk-off home run in the 15th inning to give the New York Yankees a 2-0 win over the Boston Red Sox on Friday.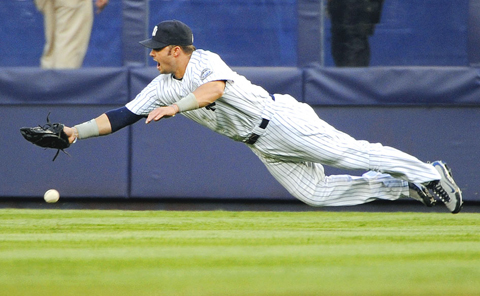 Right fielder Nick Swisher of the New York Yankees dives and misses a catch off Boston Red Sox batter Jacoby Ellsbury during their game in New York on Friday.
PHOTO: AP
Rodriguez smashed a two-out pitch from reliever Junichi Tazawa, who was making his Major League debut, into the Boston bullpen to end the 5 hour, 33 minute marathon.
"I got a good pitch to hit and I hit it good," Rodriguez said in a television interview after the game-winning blast. "We were all tired and all just wanted to go home. It's definitely exhausting."
The Yankees and Red Sox, baseball's most heated rivalry, used a combined 14 pitchers as the game went scoreless into the 15th inning. It was the longest scoreless match-up between the teams and the first time since 1976 that the rivals had gone into extra innings without a run on the board.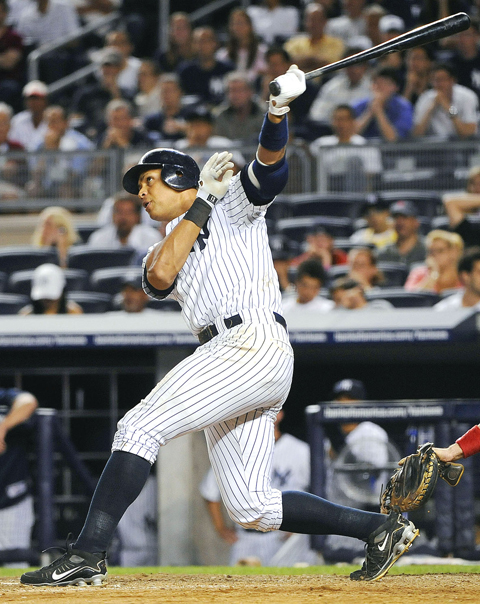 Alex Rodriguez of the New York Yankees follows through on a two-run walk-off homer to beat the Boston Red Sox 2-0 during the 15th inning of their American League game at Yankee Stadium in New York on Friday.
PHOTO: AP
Rodriguez's homer, his 20th of the season, ended a streak of 72 at bats without a home run, the longest drought of the veteran New York slugger's career.
"Both teams were remarkable, it was a heavyweight fight," Rodriguez said. "We were fortunate to get in the last punch."
New York starter A.J. Burnett pitched into the eighth inning, allowing just one hit with six strikeouts and six walks. Four other Yankee relievers combined to shut the Red Sox out, until Phil Coke (3-3) pitched a scoreless 15th for the win.
Boston starter Josh Beckett went seven innings, allowing four hits with seven strikeouts and two walks. The Red Sox then used a total of seven relievers.
Tazawa (0-1), who was called up from the minors earlier in the day, came on in the 14th inning and was the last Boston pitcher available in the bullpen.
The win was New York's fifth in a row. They also beat Boston on Thursday after losing all eight of their previous meetings this season.
New York now lead the American League East Division by four-and-a-half games over the Red Sox.
Also See: Braves score late to down Dodgers
Comments will be moderated. Keep comments relevant to the article. Remarks containing abusive and obscene language, personal attacks of any kind or promotion will be removed and the user banned. Final decision will be at the discretion of the Taipei Times.