NBA: LeBron says that he wants to keep his options open
LeBron James indicated on Friday he is unlikely to accept a contract extension from the Cleveland Cavaliers until after the 2009-2010 season and presumably will become a free agent.
At an event in his hometown to unveil Nike Air Max LeBron VII, the latest sneaker in his signature line, James made his strongest comments yet about his future. The NBA's reigning MVP said he signed a three-year contract in 2006 to give him more options once it expires.
"I signed a contract in 2006 with an option, and it would make no sense for me to sign that contract if I didn't keep my options open," he said. "I'll let you fill in the blanks."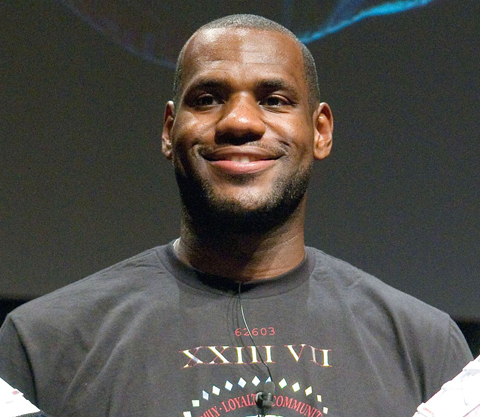 Cleveland Cavalier forward LeBron James is pictured at a promotional event at Ed Davis Community Center in Akron, Ohio, on Friday.
PHOTO: AP
The Cavaliers offered James a contract extension on July 18, the three-year anniversary of the signing of his current contract.
The team could offer the extension — at the highest salary allowed — of up to three years.
James can sign the extension offer anytime before June 30 next year.
James, who will make US$15.7 million next season, also has an option in his current contract that can extend his deal through the 2010-2011 season.
However, it appears for now that James does not intend to sign the extension or pick up his one-year option for US$17.1 million anytime soon.
The 24-year-old superstar said his agent, Leon Rose, and Cavaliers general manager Danny Ferry have had "a great conversation." But James remained noncommittal about his plans beyond the upcoming season, one he hopes ends with the Cavs, who acquired All-Star center Shaquille O'Neal shortly after their season ended, winning their first NBA title.
James was similarly positioned in 2006, when he decided to sign a three-year extension with the Cavs.
Despite James' insistence that he's happy in Cleveland, his choice to delay his decision is certain to spark more speculation that he'll sign with another club next summer.
James said he isn't worried about his contract situation becoming a distraction.
James said he is looking forward to being teammates with O'Neal, one of the few athletes on the planet as recognizable as James himself.
"To get the opportunity to play with one of the greatest basketball players to ever play the game, that's the fun part for me," James said. "I'm humbled by that."
Comments will be moderated. Keep comments relevant to the article. Remarks containing abusive and obscene language, personal attacks of any kind or promotion will be removed and the user banned. Final decision will be at the discretion of the Taipei Times.