Buick ends sponsorship of two PGA Tour events
The PGA Tour suffered a double blow on Tuesday because of the economic downturn with the removal of the Buick Invitational and Buick Open golf tournaments from next year's schedule.
In a long anticipated move, troubled Detroit automaker Buick announced in a joint statement with the Tour that it had withdrawn its title sponsorship of both events from next season.
The statement read: "As a result of the recent court-supervised restructuring of General Motors (GM), all agreements between Buick and the PGA Tour have been withdrawn. This brings to an end the Buick Open at Warwick Hills [in Grand Blanc, Michigan], and Buick's sponsorship of the Buick Invitational at Torrey Pines [in LaJolla, California]. While this is disappointing news, both the PGA Tour and Buick remain in discussions regarding future sponsorship possibilities."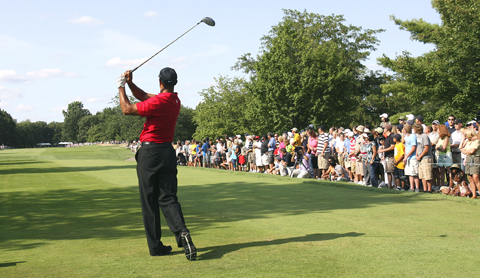 Tiger Woods follows through on his drive on the 16th hole during the final round of the final Buick Open golf tournament at Warwick Hills in Grand Blanc, Michigan, on Sunday. Buick announced on Tuesday it was canceling its sponsorship of the event.
PHOTO: AP
The PGA Tour said it would make an announcement yesterday regarding a replacement event for the Buick Open, which is widely expected to be staged at The Greenbrier in West Virginia.
It added that alternative sponsorship would be sought for the Buick Invitational, where world No. 1 Tiger Woods has triumphed six times.
The final Buick Open was held last week when Woods clinched the title for a third time on Sunday.
Both Buick events had been locked into contracts until the end of next year but turmoil in the auto industry has left golf vulnerable to the loss of marketing and advertising dollars.
In November, GM's Buick brand ended its endorsement deal with Woods, worth an estimated US$8 million annually, a year early in a move to cut costs.
The following month, GM and fellow automaker Chrysler were beneficiaries of a US$17.4 billion bailout by the US government.
Six events on the 2009 PGA Tour have automakers as title sponsors and, although the US circuit was fully sponsored for this season, the future was uncertain.
"It would be imprudent for us just to assume that everything is going to be fine and dandy in this environment," Tour commissioner Tim Finchem told reporters at the end of last year. "We have to assume that we are going to take some hits and that we're going to have some turnover. In preparation for that possibility, we have been talking to a range of companies in other industry sectors. We'll just have to see how it goes."
Comments will be moderated. Keep comments relevant to the article. Remarks containing abusive and obscene language, personal attacks of any kind or promotion will be removed and the user banned. Final decision will be at the discretion of the Taipei Times.