Surgery ends Wang's season, clouds future
C.C. Sabathia was showered, dressed and ready to leave Tropicana Field after a disappointing performance in a 6-2 Yankees loss to the Tampa Bay Rays. He had already talked about his effort, saying he had pitched horribly, without fastball command, failing to give a hot team a chance to win.
Then Sabathia learned that Wang Chien-ming would need season-ending shoulder surgery. Instantly, his mood turned from frustrated to compassionate.
"Missing a year, going through the stuff he was going through when he was here; it just stinks he's not going to be here," Sabathia said. "We really need him. He's a great pitcher."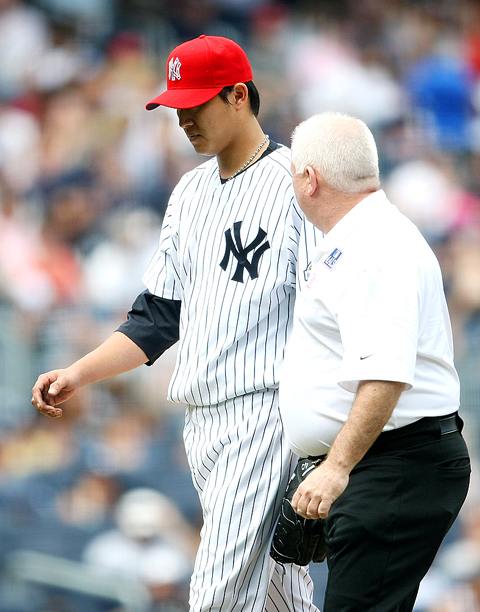 Wang Chien-ming, left, leaves the Yankees' game against the Toronto Blue Jays with a strained right shoulder on July 4 at Yankee Stadium in New York.
PHOTO: AFP
At least, Wang used to be a great pitcher, when he was the No. 1 starter on the playoff teams of 2006 and 2007. Now Wang's future is unknown, and he may have thrown his last pitch for the Yankees.
Manager Joe Girardi said Dr James Andrews was to operate on Wang's shoulder capsule in Birmingham, Alabama, yesterday. Girardi said Wang would miss the rest of this season, but the extent of his absence beyond that would be determined after the procedure. Girardi has already acknowledged that Wang has rotator cuff damage.
If the outlook is bleak enough, the Yankees could make Wang a free agent by not offering him a contract for next season. He made US$5 million this year and is eligible for arbitration. By rule, the Yankees can offer no less than a 20 percent pay cut, or US$4 million.
"I feel for him," Johnny Damon said. "As a team, you always have to try to rise above any circumstance. But for him personally, he's had a chance to pitch well in the big leagues for a few years, and you just hope it's not over. You hope he can recoup what he's had in the past and go on and pitch another 10 years, whether it's for us or someone else."
Wang felt pain in his shoulder on July 4, while pitching against Toronto in the sixth inning at Yankee Stadium. He gave up a home run to Adam Lind and lasted one more pitch, a sinker that came in disturbingly slow.
Wang had struggled all season, going on the disabled list in April for weakness in his hips as the Yankees searched for a tangible reason to send him to the minors. But the July 4 game was the first sign of shoulder issues.
"He never said anything about his shoulder until that day," said the pitching coach, Dave Eiland. "He came out of the game and said, 'Shoulder,' and it caught all of us off guard. That was the best game he had pitched all year, and you were like, 'OK, he may have turned the corner.' Then all of a sudden, bam."
Wang had shoulder surgery in 2001, when he was in the minor leagues, and he lost two months to a shoulder problem as a rookie in 2005. But this problem might have been an indirect result of the devastating foot injury he sustained rounding third base in Houston on June 15 last season.
Wang tore a tendon in his right foot and sustained a mid-foot sprain of the Lisfranc ligament, an unusual baseball injury that comes without warning. The injury had no direct effect on his shoulder, of course, but the resulting inactivity and change to his routine seem to have had untold consequences.
"They always say once you get seriously hurt one time, you start changing your body moves and everything," Damon said. "Maybe he started doing something different when he threw. Who knows?"
Girardi said there was no way to tell exactly why Wang's shoulder gave out. But considering his many physical problems and his generally woeful performance (a 1-6 record and a 9.64 earned run average), Wang's year has been painful on many levels.
"I feel bad for him," Girardi said. "He was on a roll last year when he hurt his foot. He's meant a lot. It's tough to see a player go through this."
Also See: Rays hit Sabathia, down surging Yanks
Comments will be moderated. Keep comments relevant to the article. Remarks containing abusive and obscene language, personal attacks of any kind or promotion will be removed and the user banned. Final decision will be at the discretion of the Taipei Times.