England putting faith in 'Freddie' for third Test
ASHES NEWS: Ian Bell, in for the injured Kevin Pietersen, turned his ankle playing soccer on Monday, while Australia's Brett Lee looks set to miss the game
England head into the third Ashes Test at Edgbaston confident of all-rounder Andrew "Freddie" Flintoff's fitness but without Kevin Pietersen against an Australia side looking to level the series at 1-1.
Flintoff's aggressive spell on the final day of the second Test sealed England's 115-run win.
But soon after that match, batting star Pietersen gave in to a longstanding Achilles problem and announced he would take no further part in the series.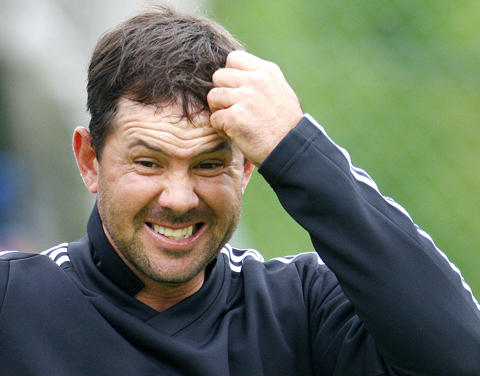 Australia captain Ricky Ponting reacts during a training session on Tuesday at Edgbaston in Birmingham, England.
PHOTO: AP
Flintoff, whose career has been blighted by injuries, said before the match at Lord's that this would be his final Test series.
A key figure during his country's 2005 Ashes triumph, and in particular at Edgbaston, where England won by just two runs, doubts persist over whether Flintoff's knee injury will hold up for the final three matches of the series.
England skipper Andrew Strauss is prepared to use Flintoff as and when appropriate.
"We don't want Fred bowling millions of overs when conditions are not in his favor," Strauss said. "But if we get into a winning situation and he is the right bowler to take us to victory, we will be expecting to see him put in the same sort of effort as at Lord's."
Flintoff himself has been sleeping with a special compression machine on his troublesome joint and Australia vice-captain Michael Clarke was not surprised that England were pulling out all the stops to get him on the field.
"Andrew Flintoff is an amazing player," Clarke said. "He is always up for the big contests. He seems to perform under pressure and no doubt he will be ready on Thursday to give us more stick."
England's win at Edgbaston four years ago was preceded by the sight of Australia fast bowling great Glenn McGrath being ruled out of the match during the warm-up on the first day after treading on a stray cricket ball.
There were worrying echoes for England of that freak injury when Ian Bell, drafted in to replace Pietersen, turned his ankle during a soccer warm-up on Monday.
He was seen on Tuesday on the outfield at his Warwickshire home ground in full batting kit in what appeared to be a test of his ankle's ability to respond to the strain of running between wickets.
England's squad does not contain a spare batsman after the selectors made clear that Bell was their man to replace Pietersen.
Clarke said Australia had been given a lift by Pietersen's absence. "Anytime a very good player is not playing, like Kevin Pietersen, it gives the team a boost but Ian is a very good player himself," he said.
Australia are again set to be without fast bowler Brett Lee because of the side injury that ruled him out of the first two Tests.
It wouldn't be an issue if Mitchell Johnson wasn't struggling so much. Stuart Clark is waiting in the wings but the signs are that Australia will persist with Johnson for at least one more match.
Opening batsman Phillip Hughes, who has been struggling for runs in the Tests, found some form during last weekend's warm-up win over Northamptonshire.
But it was a collective first innings batting failure at Lord's that put Australia on the back foot.
Australia captain Ricky Ponting — who needs just 25 to become his country's leading Test run scorer of all time — will be keen to prove that was a mere blip.
Comments will be moderated. Keep comments relevant to the article. Remarks containing abusive and obscene language, personal attacks of any kind or promotion will be removed and the user banned. Final decision will be at the discretion of the Taipei Times.