Two men arrested after assaults at Gay Olympics
Two men have been arrested on suspicion of assault after three participants at the "Gay Olympics" were attacked in the center of Copenhagen.
The three, thought to be two people from Sweden and one from Australia, were treated for minor injuries — a gashed eye, a bloody nose — after two separate attacks within 10 minutes in the city center at the weekend. Two men have been charged.
It cast a sobering shadow over a glitzy opening ceremony for the Games, which continue until Sunday, offering a mix of traditional athletic contests and more innovative events and parties.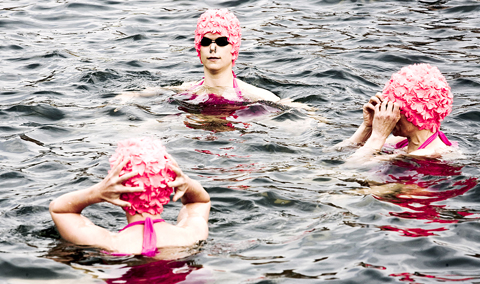 Synchronized swimming team members perform in Copenhagen Harbor on Monday during the World Outgames, which are being held in the Danish capital until Sunday.
PHOTO: AFP
The lord mayor of Copenhagen, Ritt Bjerregaard, condemned the attacks. She urged citizens to show the world that Copenhagen is a diverse and tolerant city.
"I don't believe this is a big problem in Copenhagen. If this is the case, then we have a responsibility to show people that we simply won't accept this," Bjerregaard told Ritzau news agency.
A spokesman for the Outgames said the attacks "show the reason why we are focusing on human rights this week — to educate people and to make sure something like this doesn't happen again."
An editorial in the liberal newspaper Politiken criticized Danish ministers for not speaking at the opening ceremony.
"In Denmark we don't have a minister responsible for gay rights issues," it said. "We also don't have a minister who wants to welcome all the activists and participants, even though it is an event that gives Denmark unprecedented ­attention ... It's embarrassing to have a government that doesn't want to come out of the closet."
Other sections of the media have been less supportive. The 30 million kroner (US$5.8 million) the city council used to fund the event has provoked the ire of some commentators, who have also been less than impressed with the number of participants.
When Copenhagen was first announced as the host city, four years ago, there were hopes of more than 15,000 people taking part, but only 5,500 have registered this week.
Comments will be moderated. Keep comments relevant to the article. Remarks containing abusive and obscene language, personal attacks of any kind or promotion will be removed and the user banned. Final decision will be at the discretion of the Taipei Times.