Twins end Angels' win streak
STOMPED: The Twins' designated hitter knocked out a two-run homer in the first inning and another home run in the seventh to secure a 10-1 victory against the Angels
AMERICAN LEAGUE
REUTERS AND AP, LOS ANGELES AND ANAHEIM, CALIFORNIA
The Minnesota Twins ended the Los Angeles Angels' eight-game winning streak with a 10-1 victory on Sunday, powered by Justin Morneau's two home runs.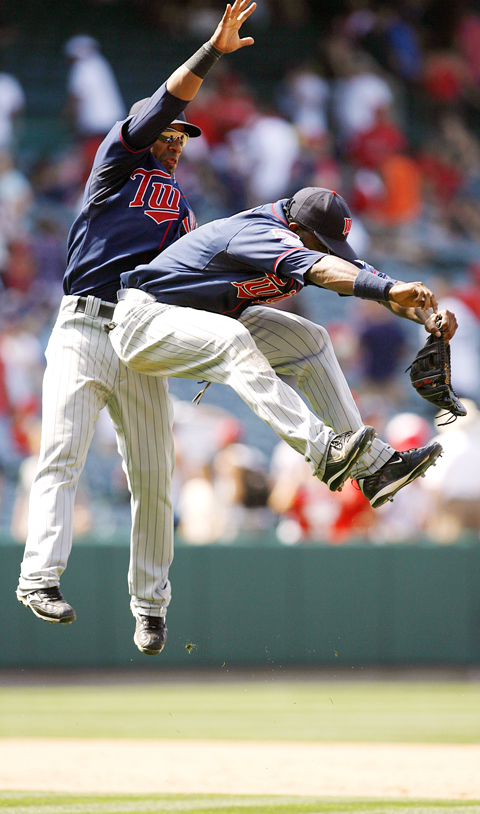 The Minnesota Twins' Alexi Casilla, left, and Denard Span, right, jump in celebration after the Twins defeated the Los Angeles Angels 10-1 in their game on Sunday in Anaheim, California.
PHOTO: AP
Morneau, the Twins' designated hitter, belted a two-run homer in the first inning and gave Minnesota an 8-1 lead with a solo homer in the seventh.
"As Morneau goes, we go," Twins manager Ron Gardenhire told reporters. "When he is swinging like that we go pretty good."
The win ended a four-game losing streak for Minnesota.
Denard Span drove in four more runs with a two-run single in a four-run, fourth inning and a two-run homer in the eighth, and Nick Punto had three runs batted in.
The Twins had 12 hits against the American League West-leading Angels, rocking Los Angeles starter Ervin Santana (3-6) for six runs and six hits in three-and-two-thirds innings.
Minnesota's Anthony Swarzak (3-3) got the win by holding the hosts to four hits and one run over six-and-two-thirds innings.
"We haven't seen him before," Angels leadoff batter Chone Figgins said of Swarzak. "He made his pitches. He kept throwing strikes, kept the ball out of the middle of the plate. We took some good rips against him. We just couldn't get some hits and get guys on base."
The Angels' lone run came on a solo homer by Kendry Morales in the fourth.
"The Angels beat up on us pretty good for three days and it was nice to go out there and get the win," the Twins' Punto said. "It was one of those road trips where a lot of things didn't go our way, but I feel like we picked ourselves up."
YANKEES 7, ATHLETICS 5
At New York, Derek Jeter hit a go-ahead single and Mariano Rivera earned a four-out save as New York capped a stellar homestand in which they grabbed the AL East.
Robinson Cano had an early three-run double and the Yankees got a strong effort from the bullpen, as they wrapped up a 9-1 start to the second half. After winning for the 22nd time in 28 games, the Yankees hit the road for 19 of their next 26.
Phil Hughes provided more spotless relief, Phil Coke (2-3) go the win even though he gave up a go-ahead homer to Mark Ellis, and Brian Bruney got the ball to Rivera to close out the game.
RANGERS 7, ROYALS 2
At Kansas City, Missouri, Dustin Nippert allowed one hit in a stellar job of relief pitching as Texas scored seven times off the Kansas City bullpen.
Nippert was forced into action when Rangers starter Kevin Millwood left after two innings with tightness in his left gluteus.
He gave up a run in the seventh on Alex Gordon's single, the only hit he allowed. Nippert (3-0) walked two, hit a batter and struck out one in four-and-two-thirds innings.
Ron Mahay (1-1), the first of four relievers, faced two batters and gave up two hits to take the loss for the Royals. They've lost 11 of 12 overall.
In other AL play, it was:
• Orioles 6, Red Sox 2
• Blue Jays 5, Rays 1
• Indians 12, Mariners 3
• White Sox 5, Tigers 1
NATIONAL LEAGUE
AP, PHILADELPHIA, PENNSYLVANIA
Chase Utley, Ryan Howard, Jimmy Rollins and Raul Ibanez all hit two-run home runs to lead the Philadelphia Phillies to a 9-2 win over the St Louis Cardinals in the National League on Sunday.
Joe Blanton (7-4) had another effective outing, allowing two runs and he struck out six over eight innings. Blanton has allowed two runs or less and pitched at least seven innings in five of his last six starts for the NL East leaders.
Howard had three RBIs to lift the Phillies to their 17th win in 20 games.
CUBS 5, REDS 2
At Chicago, Rich Harden pitched six stellar innings to win a day game at Wrigley Field for the first time since last August as Chicago moved into first place with a victory over Cincinnati.
The Cubs have won 10 of their last 13 games to move a half-game ahead of St. Louis in the NL Central, their first appearance in the top spot since April 21.
The Reds wrapped up an 0-6 road trip, getting outscored 43-20 in their first winless multi-series trip in five years. After laboring through three innings, Cincinnati starter Micah Owings (6-11) was pulled with what the team called a "tight right shoulder."
METS 8, ASTROS 3
At Houston, Livan Hernandez struck out a season-high seven batters after a rough start as New York put together another well-balanced offensive performance in a win over Houston.
Hernandez (7-5) allowed only four singles after the Astros built a 3-0 lead in the first inning.
In other NL play, it was:
• Braves 10, Brewers 2
• Nationals 3, Padres 2, 10 innings
• Rockies 4, Giants 2
• Diamondbacks 9, Pirates 0
• Marlins 8, Dodgers 6
Comments will be moderated. Keep comments relevant to the article. Remarks containing abusive and obscene language, personal attacks of any kind or promotion will be removed and the user banned. Final decision will be at the discretion of the Taipei Times.