Ramirez passes Mantle on career home run list
MILESTONE: Weeks after returning from a suspension for violating MLB drug policy, the slugger said that he wasn't counting homers but just taking it 'day by day'
NATIONAL LEAGUE
AP AND REUTERS, LOS ANGELES AND PHILADELPHIA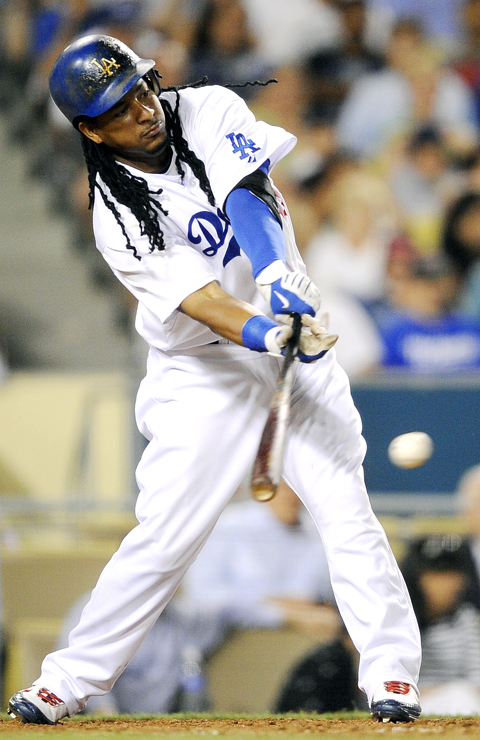 Los Angeles Dodgers slugger Manny Ramirez connects for a single during the eighth inning against the Cincinnati Reds in Los Angeles on Monday. Earlier Ramirez hit his 537th home run, passing Mickey Mantle on the career home run list.
PHOTO: AP
Manny Ramirez of the Los Angeles Dodgers moved past Mickey Mantle and into 15th place on the career home run list on Monday, hitting a two-run shot off Cincinnati's Micah Owings for the 537th of his career.
Ramirez, who tied Mantle on July 10, drove a 2-0 slider into the left field pavilion in the second inning to give the Dodgers a 6-3 lead. The crowd at Chavez Ravine yelled his first name in unison, hoping for a curtain call that never came.
Mantle is the ninth Hall of Famer Ramirez passed on the all-time list since the start of last season. The others were Lou Gehrig, Eddie Murray, Mel Ott, Eddie Mathews, Ernie Banks, Ted Williams, Willie McCovey and Jimmie Foxx. The next target for Ramirez is Mike Schmidt at 548.
"To be honest, I haven't been keeping track of who I've passed or where I'm at. I just wait for you guys to tell me," Ramirez said. "I just go and play and don't worry about the numbers. Maybe I will when I look back later on and see what I accomplished. But now I'm going to take it day by day and see if we can go to the next step."
Ramirez returned to the Dodgers lineup on July 3 after serving a 50-game suspension for violating Major League Baseball's drug policy.
Monday's home run was the 12-time All-Star's 400th in the regular season against right-handed pitching. Owings became the 351st pitcher Ramirez has homered against, compared with 244 for Mantle — who was third on the home run list behind Babe Ruth and Willie Mays when he retired at the end of the 1968 season.
PHILLIES 10, CUBS 1
Raul Ibanez set the tone with a three-run homer in the first inning as Philadelphia streaked to their ninth consecutive victory, a 10-1 rout of Chicago on Monday.
Carlos Ruiz added a home run and double as the Phillies retained their six-and-a-half game lead over the Atlanta Braves in the National League East.
The nine-game winning streak is the club's longest since 2006.
Ibanez crushed a two-strike fastball down the middle of the plate for his 25th home run of the season. Only St Louis's Albert Pujols has more (34).
"I felt like it was the big hit of the game," Phillies manager Charlie Manuel told reporters.
Philadelphia grabbed a 5-0 lead off Ruiz's two-run homer in the second inning and made it 9-0 with four runs in the fourth. Ruiz's double accounted for the opening run in the inning.
In other NL action it was:
• Braves 11 Giants 3
• Mets 6, Nationals 2
• Rockies 10, Diamondbacks 6
• Astros 3, Cardinals 2
• Pirates 8, Brewers 5
• Marlins 3, Padres 2
AMERICAN LEAGUE
AP, OAKLAND, CALIFORNIA
Matt Holliday hit a tying grand slam in the seventh inning and Jack Cust followed with another homer to help the Oakland Athletics rally from a 10-run deficit to beat the Minnesota Twins 14-13 in the American League on Monday.
Holliday also had a two-run homer in the largest comeback in Oakland history.
Craig Breslow (3-4) got the win and Michael Wuertz finished the 3-hour, 32-minute game for his third save in four chances.
The game ended when Michael Cuddyer was thrown out trying to score from second on Wuertz's wild pitch. Cuddyer appeared to be safe and Twins manager Ron Gardenhire stepped between him and plate umpire Mike Muchlinski as the outfielder argued the call.
Justin Morneau hit his second grand slam this season and a three-run homer for a career-high seven RBIs, but the Twins couldn't hold a 12-2 lead and matched their biggest collapse ever.
YANKEES 2, ORIOLES 1
At New York, Hideki Matsui homered off Jim Johnson in the ninth inning to give the streaking New York a victory over Baltimore.
Matsui's home run off Johnson (3-4) extended the Yankees' winning streak to four since the All-Star break. Matsui's only other game-ending homer in the majors was on July 17, 2003, against Cleveland's David Riske.
New York (55-37) moved into a first-place tie with Boston in the AL East with its third consecutive 2-1 win.
In other AL action it was:
• Rangers 6, Red Sox 3
• White Sox 4, Rays 3
Comments will be moderated. Keep comments relevant to the article. Remarks containing abusive and obscene language, personal attacks of any kind or promotion will be removed and the user banned. Final decision will be at the discretion of the Taipei Times.