The World Games 2009 Kaohsiung: Games bring out curiosity, pride in Kaohsiung's fans
The build-up to the World Games may have been littered with stories that thousands of tickets remained unsold, but the first few days of competition have seen most venues packed out with enthusiastic crowds of local fans.
Events such as fistball, beach handball, korfball and sumo have all seen strong attendances as Kaohsiung's debut on the world stage is welcomed by the locals.
And as for the fans, residents of Taiwan's second city have a number of different reasons for attending.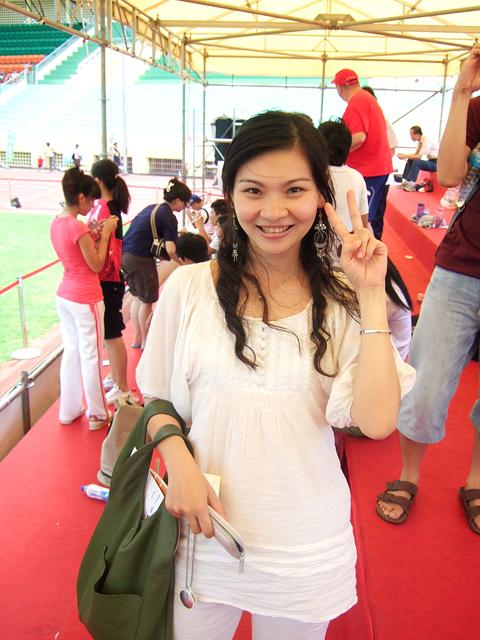 Julia Fu is pictured after enjoying a bit of fistball between Taiwan and Switzerland at Chungcheng Stadium in Kaoshiung on Sunday.
PHOTO: RICHARD HAZELDINE, TAIPEI TIMES
For some, the chance to watch some sport, however obscure, was just too good to miss.
Take Kaohsiung-native Huang Shun-fa.
Huang, 29, a chemical engineer by trade, was at Sizihwan on Saturday morning to watch Taiwan's opening game against Oman in beach handball.
While he admitted that he didn't really have any idea what beach handball was when he bought his tickets, the avid sports fan said he figured it would be like beach volleyball and the opportunity to watch some live action was what had brought him to the venue.
Huang, who usually works afternoon shifts, said he was using up all his mornings during the Games to watch as much of the action as possible.He had also purchased tickets to see fistball and gymnastics.
Others were just plain curious.
Student Candice Chuang, 23, was among the small crowd attending the Air Sports competition on Friday with her mother and sister.
Asked why they had made the trip to Metropolitan Park, 23-year-old Chuang said she seldom had the opportunity to see this kind of competition.
They also planned to watch other events, having bought tickets for the roller sports and flying disc competitions.
Some, meanwhile, were there to cheer on friends and family.
High school classmates Cheng Ya-wen, Tang Ting-wei and Wang Yun-shan were attending the ladies beach handball match against Macedonia to cheer on their high school classmate.
And although Taiwan lost, the girls enjoyed the occasion, adding that it was a real honor for Kaohsiung to have the opportunity to host the games.
"We're so glad that Kaohsiung got the chance to host the games because usually Taipei gets everything," Tang said.
And there are those who came just to cheer for Taiwan and revel in the city's hosting of the games.
Student Julia Fu, 30, was among the noisy crowd over at Chungcheng Stadium to cheer on Taiwan's fistball team.
"I'm here to cheer on Taiwan," she said. "I have to admit I didn't know what fistball was at first so I went online to check. When I found out it was like volleyball I decided to come along."
"I'm really excited to be here," she said. "The build up to the World Games has seen Kaohsiung become more beautiful. The traffic has improved and the city is much cleaner. I also went to the opening ceremony and that was great too."
Comments will be moderated. Keep comments relevant to the article. Remarks containing abusive and obscene language, personal attacks of any kind or promotion will be removed and the user banned. Final decision will be at the discretion of the Taipei Times.