Spanish leader of Scottish Open on verge of major win
Gonzalo Fernandez-Castano is on the verge of the biggest win of his career after claiming a one-shot lead to take into the final round of the £3 million (US$4.8 million) Scottish Open.
But the rising Spanish star, who fired a flawless 3rd-round 64 on Saturday, said he would gladly give it up for the safe return of Petra, his family's pet dog who went missing from his home in Marbella earlier this week.
"I have to go and phone home now and see if there has been any news. Unfortunately they did not know when I teed off," the Spaniard said after his flawless display.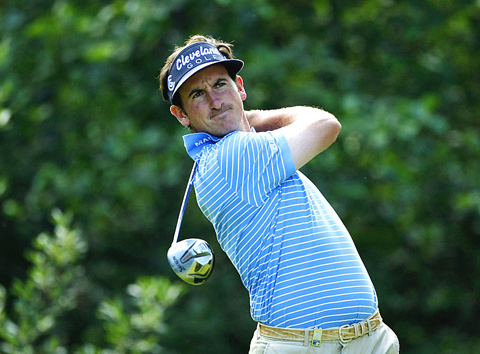 Spain's Gonzalo Fernandez-Castano tees off on the 18th hole during the third round of the Scottish Open golf tournament at Loch Lomond near Glasgow, Scotland, on Saturday.
PHOTO: REUTERS
Asked if, given the choice, he would opt for the £500,000 winner's check on offer here or getting the female black Shar-Pei back, he replied: "Believe it or not, I'm going to say find the dog. I'd give anything to see my wife happy and smiling again."
Despite the canine-induced stress, Fernandez-Castano, the winner of last year's British Masters and three times a runner-up this season, believes he is playing the best golf of his career in an environment he described as coming close to his personal vision of paradise.
"I can't think of a better place in the world to play golf when the weather is like this," he said. "And I have not struck the ball like this before. I left a couple of shots out there today but after a 64 you can't complain."
"It is a funny game because this morning on the range I could not hit a shot — I hooked one five-iron 80 yards left of my target. But then you go out there and play the best golf of your life," Fernandez-Castano said.
Fernandez-Castano lies a shot ahead of Germany's Martin Kaymer (66), winner of the French Open last weekend, and overnight leader Retief Goosen (69).
Lee Westwood matched Fernandez-Castano's 64 and felt he could have registered the first sub-60 round on the European tour after nine birdies in his first 12 holes.
A bunkered tee shot on the long 13th and a bogey on the following hole ensured it was not to be. But Westwood is only four shots off the lead and has bolstered his credentials as the most likely European to challenge Tiger Woods at next week's British Open at Turnberry.
"I was thinking about 59 stood on the 13th tee," the Englishman said. "Even with a bogey on five, I'd had nine birdies in the first 12 holes and two great chances to come."
"The longest putt I'd had was about 15 feet [4.5m] on the 4th and 12th, which shows how good I was hitting it tee to green," Westwood said. "Unfortunately we had to wait for what felt like 10 minutes on the 13th and then the same again on the next tee. Those sort of things just break your rhythm occasionally, but I'm really happy with the [way] I played. All departments felt good."
Westwood's display was all the more remarkable given that it came just 48 hours after he had contemplated pulling out of the tournament because of a chest infection that had limited him to just four hours sleep on the two nights prior to Thursday's opening 73.
"It just shows I'm a man who needs his sleep," he said. "When I was three over after two on the day and feeling dreadful, I was almost thinking of walking off."
"With four hours sleep in three days you're not going to feel like playing golf. It felt like I had somebody else's head on my shoulders. I was dizzy, I couldn't focus. It felt almost like I was hungover," Westwood said.
Ernie Els also looks set to head to Turnberry in a positive frame of mind after posting a 67 to move to eight under — six shots adrift of the leader.
Comments will be moderated. Keep comments relevant to the article. Remarks containing abusive and obscene language, personal attacks of any kind or promotion will be removed and the user banned. Final decision will be at the discretion of the Taipei Times.