Ecclestone says he won't resign over Hitler flap
Formula One boss Bernie Ecclestone dismissed calls for his resignation on Monday in the wake of his praise for Adolf Hitler.
Ecclestone, F1's commercial rights holder, has come under fire from Jewish groups and British politicians following an interview published on Saturday in the Times of London during which he said democracy wasn't effective and singled out Hitler as a strong leader.
Among those who have expressed outrage over Ecclestone's remarks is Ronald Lauder, president of the World Jewish Congress (WJC). Lauder said someone with Ecclestone's views should not be allowed to run such an important and popular racing series.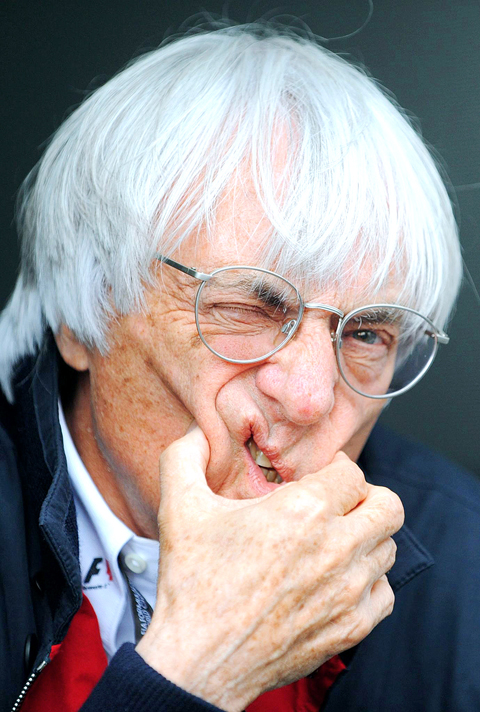 PHOTO: EPA
But Ecclestone said in a telephone interview with The Associated Press that "I think the people who are saying that [I should resign] haven't got the power to say these things."
If the WJC is influential, he said, "it's a pity they didn't sort the banks out." Asked to elaborate, Ecclestone said: "They have a lot of influence everywhere."
The WJC, which represents Jewish communities in more than 80 countries, was founded in 1936 to "mobilize the world against the Nazi onslaught," according to its Web site, which says it continues to secure "the rights and safety of Jews" around the world.
As a result of Ecclestone's earlier comments, the governor of Germany's Baden-Wuerttemberg state, Guenther Oettinger, canceled their planned meeting at this weekend's German Grand Prix.
Ecclestone said he was not aware of that.
"I think I'm due to be meeting him at 12 o'clock on Sunday — nobody has told me to the contrary," he said.
Ecclestone said he had not intended to invoke Hitler's name in the interview with the Times. He acknowledged that it "doesn't help" that he is praising Hitler a little over a year since Max Mosley, president of F1's governing body, took a British tabloid to court after being accused of being involved in a Nazi-themed sadomasochistic orgy.
Mosley, the son of the late Oswald Mosley, Britain's best-known fascist politician in the 1930s, won the privacy suit. The judge in that case found no evidence that Mosley's encounter with five women was intended to be an enactment of Nazi behavior.
"It's probably my fault in that I got dragged into something I wasn't supposed to discuss — we got out of F1 into something else," Ecclestone said.
However, Ecclestone said he does not regret praising Hitler's leadership, "except, as usual, things were taken a little bit wrong."
"Between '32 and '38 he took a country that was bankrupt and made it a reasonably strong power in Europe, but after that the guy obviously is a lunatic," Ecclestone said.
Hitler came to power in 1933 and created a totalitarian regime that triggered the outbreak of World War II and was responsible for the Nazi genocide of 6 million Jews.
"The trouble with politicians and democracy is they all the time have to compromise, they can't do what they want to do because there is somebody in opposition. It certainly takes a lot longer to do something," Ecclestone said. "I regret that it didn't come out like that, upsetting people is the last thing I wanted to do, obviously."
■FUJI PULLS PLUG ON F1
REUTERS, TOKYO
Toyota's Fuji International Speedway yesterday gave up the hosting rights for the Japanese Formula One Grand Prix from next year to cut costs amid the global economic downturn.
The circuit, majority-held by the world's biggest automaker, had been scheduled to alternate each year with Honda-owned Suzuka.
A Honda spokesman said it was up to Formula One organizers to decide on the fate of next year's race, adding that Suzuka had made no decision beyond the planned hosting this year and in 2011.
Honda pulled out of Formula One as a team and engine provider in December.
Fees for hosting rights cost the Toyota circuit about ¥2 billion to ¥3 billion (US$20 million to US$30 million), a source said on condition of anonymity. That excludes other operational outlays such as staffing the event.
"It's been only three years since we announced in March 2006 that we would be hosting the F1 Japanese Grand Prix," Fuji Speedway president Hiroaki Kato said in a statement.
Comments will be moderated. Keep comments relevant to the article. Remarks containing abusive and obscene language, personal attacks of any kind or promotion will be removed and the user banned. Final decision will be at the discretion of the Taipei Times.