Former world champion Arguello dies
BOXING GREAT: For a time Alexis Arguello was considered the best pound-for-pound fighter in the world, winning world titles in three weight divisions
Managua Mayor Alexis Arguello, a former world boxing great, died at his home on Wednesday of a single gunshot to the chest, authorities said in ruling the death a probable suicide.
He had been a rising star of the governing Sandinista party despite once bitterly opposing the leftist movement. Authorities declared three days of official mourning.
Assistant judicial police chief Glenda Zavala said Arguello shot himself with a 9mm pistol and was dead when relatives got him to the hospital. The autopsy report said the bullet hit the heart and left lung, and concluded the probable cause was suicide.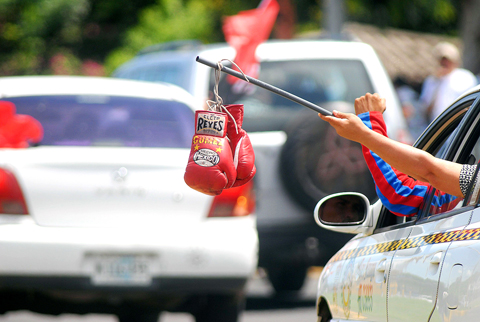 A passenger displays a pair of boxing gloves from a car while following the hearse carrying the body of Alexis Arguello in Managua on Wednesday.
PHOTO: REUTERS
Arguello, who was elected mayor of Nicaragua's capital last year, had spoken publicly of his struggle with depression and alcohol and drug use.
Presidential spokeswoman and first lady Rosario Murillo called Arguello "an example of forgiveness and reconciliation."
When Sandinista revolutionaries seized Arguello's bank accounts and homes in Managua in the 1980s, the boxer threw his support behind US-backed Contra rebels and did not return to live in Nicaragua until after the 1990 election defeat of Nicaraguan President Daniel Ortega.
Ortega called in 2005 to offer Arguello a spot on the Sandinista ticket as vice mayor of Managua. He accepted and won. Relying heavily on his fame as a boxer, he went on to win November's mayoral election, though opponents alleged the vote was fraudulent.
On Wednesday, Ortega announced he was canceling a trip to Panama's presidential inauguration because of the death.
Arguello retired from boxing in 1995 with a record of 82-8 with 65 knockouts and was a champion in three weight divisions. He was inducted into the International Boxing Hall of Fame in 1992.
Panamanian boxer Roberto Duran, a former welterweight world champion, expressed shock.
"I can't believe it. He was my friend, my brother," Duran said.
"His death is a great loss for world boxing and a much greater loss for Nicaragua," he said.
"Not only was he one of the greatest fighters I've ever seen, he was the most intelligent fighter," Bob Arum, who promoted some of his biggest fights, said. "He was a ring tactician. Every move was thought out. And he was a wonderful, wonderful person."
Arguello won the world featherweight, super featherweight and lightweight titles, his 1.78m frame allowing him to move up in weight without losing his tremendous punching power.
He was only the sixth boxer to win championships in three weight classes and was considered for a while the best pound-for-pound fighter in the world.
Comments will be moderated. Keep comments relevant to the article. Remarks containing abusive and obscene language, personal attacks of any kind or promotion will be removed and the user banned. Final decision will be at the discretion of the Taipei Times.