Andymonium as Murray reaches semis
EYES ON THE PRIZE: Andy Murray, Andy Roddick, Roger Federer and Tommy Haas will fight it out for a place in the final of the men's singles at Wimbledon
Andy Murray is two wins away from finally ending Britain's misery.
The third-ranked Murray reached the Wimbledon semi-finals for the first time on Wednesday, beating former No. 1 Juan Carlos Ferrero of Spain 7-5, 6-3, 6-2 on Centre Court.
Murray, who is trying to become the British man to win the singles title at the All England club since 1936, won 88 percent of the points on his first serve and had 18 aces. But off the court he's doing his best to avoid the hype of a nation that wants to see a Brit win the title at the All England Club.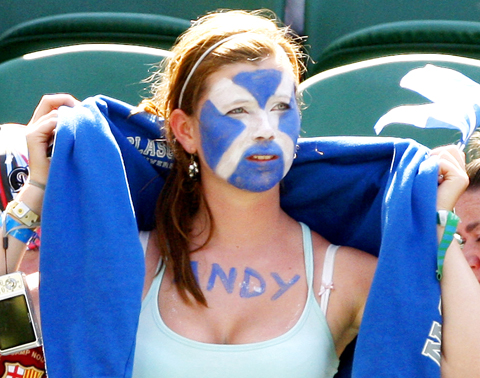 A supporter of Britain's Andy Murray waits for the start of his men's singles quarter-final against Juan Carlos Ferrero of Spain at Wimbledon on Wednesday.
PHOTO: AP
"If you work in the media and spend a lot of time reading the papers, watching everything on the TV, getting said — all the things that are getting said on the radio, then you get caught up in it," Murray said. "If you ignore it you don't realize it's happening, you don't take anything that's being said about you."
"I don't read it because 90 percent of the stuff's going to be pretty much untrue anyway. So, you know, I just stay away from it," he said.
The last Briton to reach the Wimbledon semi-finals was Tim Henman in 2002. Henman made it that far four times but never got any closer.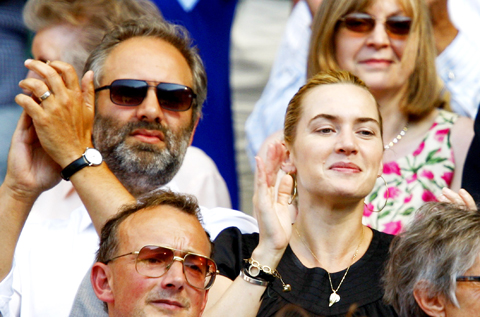 Actress Kate Winslet, right, and her husband, director Sam Mendes, applaud during Andy Murray's match at Wimbledon in London on Wednesday.
PHOTO: REUTERS
Murray plays two-time finalist Andy Roddick today for the right to reach his second Grand Slam final.
"I understand that I can lose the next match if I don't play my best," the 22-year-old Murray said. "That's been one of the things that I've learned, and it's made a huge difference to me over the last year or so."
Ferrero could do little against Murray, playing defensively for much of the match and often struggling to hold serve.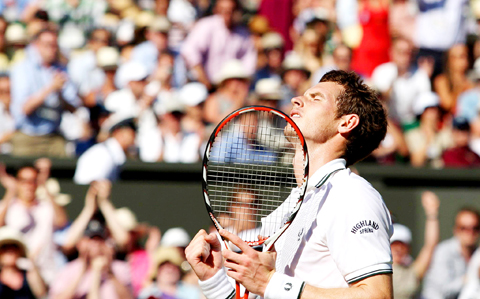 Andy Murray celebrates his victory over Juan Carlos Ferrero in their quarter-final match at Wimbledon in London on Wednesday.
PHOTO: EPA
"He won the second set very fast, and all the things happen very fast," Ferrero said. "After two sets to love, was a little bit difficult to come up. And physically I felt a little bit tired at the end. So it was difficult."
Murray reached his first Grand Slam final at last year's US Open, but he lost to Roger Federer.
"I feel confident because I've won a lot of matches on the grass," Murray said. "But every day when I get up to play the matches, I know that I'm going to have to perform very well, and that gets the nerves and the adrenaline going and makes me play better."
Roddick overcame former Wimbledon champion Lleyton Hewitt 6-3, 6-7 (10), 7-6 (1), 4-6, 6-4 on Wednesday to set up the semi-final matchup against Murray. Five-time champion Roger Federer will meet German veteran Tommy Haas in the other semi-final today.
This is Roddick's best showing at Wimbledon since 2005, when he lost in the final to Federer for the second year in a row. He lost in the third round in 2006, the quarter-finals in 2007 and second round last year.
Roddick served 43 aces against Hewitt in a 3-hour, 50-minute match that swung back and forth until the American got the decisive break for a 5-4 lead in the fifth set, converting his second chance with an easy forehand into the open court.
"It certainly wasn't short on drama," Roddick said. "It was tough from a mental standpoint because Lleyton wasn't going away and there were a lot of ebbs and flows to the match. I'm just happy to be on the good side of it."
When it was all over, Roddick let out a sigh and raised a fist, then threw his racket down, sat in his changeover chair and covered his face with his hands.
"It's a mixture of happiness, of relief," Roddick said. "In your mind, you're kind of trying to stay the course for four hours, constantly figuring out what you're going to do. Your mind is just racing for four hours. So then it's relief, happiness and almost kind of an instant shutdown mode."
Roddick knows he will be battling more than just Murray in his next match.
"I'm looking forward to it," Roddick said. "We might be able to count the people for me on this [one] hand. But I think it will be something to remember. I think the crowd's going to be electric."
"I think it's going to be a great atmosphere, one that I can certainly appreciate, even if it's not for me," he said. "I'm just going to pretend when they say, 'Come on, Andy' that they mean me."
Murray holds a 6-2 edge against Roddick, including a straight-sets win at Wimbledon in 2006.
"Andy has been playing great," Roddick said. "He's certainly come into his own as a player. He's certainly capable of hitting all the shots. He doesn't really have a lot of weaknesses."
Federer reached his 21st consecutive Grand Slam semi-final by taming Ivo Karlovic 6-3, 7-5, 7-6 (3). Federer is closing in on his sixth Wimbledon title and record 15th Grand Slam championship.
In the remaining quarter-final Germany's Tommy Haas upset fourth-seeded Novak Djokovic 7-5, 7-6 (6), 4-6, 6-3 to advance to his first Wimbledon semi-final.
"This is the best results, the best tennis I've played here, the best I've been feeling," Haas said. "Unfortunately, my next opponent is a really tough hurdle to go by."
Comments will be moderated. Keep comments relevant to the article. Remarks containing abusive and obscene language, personal attacks of any kind or promotion will be removed and the user banned. Final decision will be at the discretion of the Taipei Times.