Reality TV pitchers from India ready to debut in US
The Pittsburgh Pirates could soon find out if an investment of US$20,000 can produce a couple of million-dollar arms.
Rinku Singh and Dinesh Patel, their two India-born pitchers who had never seen a baseball game before being the top two finishers in a TV reality show designed to find potential Major League Baseball arms, are nearly ready to make their professional debuts.
Neither had picked up a baseball, much less thrown one, until little more than a year ago. Aspiring cricket players, they had no idea that US athletes could make so much money playing a sport they knew nothing about.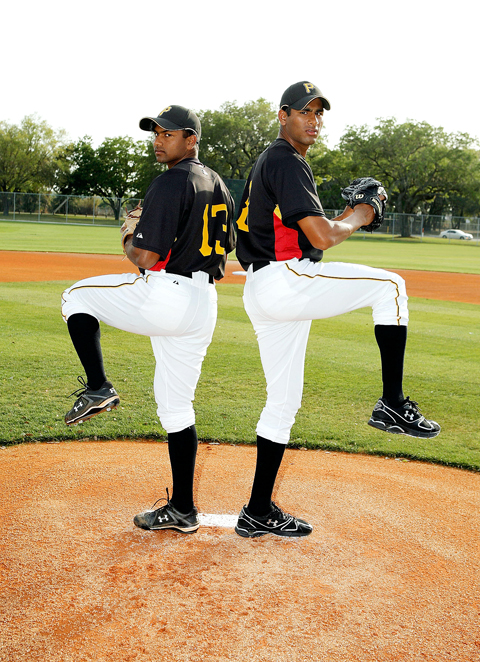 Dinesh Patel, left, and Rinku Singh of the Pittsburgh Pirates pose for a portrait at the Pirates' minor league training facility in Bradenton, Florida, on March 27.
PHOTO: AFP
Now, after a busy year crowded with TV show appearances, basic baseball instruction, fitness workouts, constant throwing and adjusting to a pro athlete's life in a new country, they are about to take the mound for the Bradenton Pirates of the rookie-level Gulf Coast League.
"It's going to be fun," Pirates general manager Neal Huntington said.
Pirates director of player development Kyle Stark said on Tuesday the two pitchers were likely to see game action this week, although the Bradenton pitchers have been set back by several recent rainouts.
As eager as sports-loving fans in India are to see whether the pair can become the first major league players from their country, the Pirates are just as curious to find out what they have in the two 20-year-olds.
Does either really possess a potential "Million Dollar Arm," as the Indian reality show was called, or will they simply be a grand but failed experiment that proves on-the-job teaching can't overcome the lack of a basic background in the sport?
Neither player had heard of the Pirates before signing with them last autumn for an estimated US$10,000 apiece, following months of workouts in California and Arizona with former major league pitcher and coach Tom House.
"It's going to be a little different from the typical first professional outing," Huntington said. "This is really their first outing [in the sport]. It will be different, but we're not trying to get too caught up in it. We want to let them become part of the routine as much as possible."
Huntington and Bradenton manager Tom Prince said it was surprising how quickly the two athletes, both of whom are from rural areas of India, have assimilated themselves not only into pro baseball but the US way of life.
Not long ago, Singh, a truck driver's son, was living with seven brothers and sisters in a one-room house in northeast India. Today, he occasionally journeys to the Bradenton mall and enjoys eating at places other than the players' cafeteria.
One Indian player initially wouldn't go anywhere without the other but, as Huntington said, "They're no longer joined at the hip."
Singh and Patel hang out with teammates at the Pirates' minor league dormitory and are treated as equals, even though every day brings a new adventure. Such as driving in a country where traffic laws must be obeyed, not routinely ignored as in India.
One on-field example: Covering first base on a ground ball, a rudimentary skill that pitchers normally are taught before high school. But it was foreign to the 1.88m Singh, who made US$100,000 while beating out 37,000 entrants to win the contest, and the 1.76m Patel, the runner-up.
Both pitchers' velocity, in the low 150kph range during tryouts last autumn, is down now that they are throwing regularly.
The Pirates are optimistic that speed will return as their less-than-basic skills become more refined.
"You can very easily argue they're 10 months old in terms of their baseball lives," Huntington said. "We're still at the rudimentary levels with them. That they'll be able to pitch in the Gulf Coast League is remarkable ... I anticipate they'll both be able to hold their own."
In their own minds, the two pitchers made their professional debuts by appearing in extended spring training games, facing opposing hitters in different uniforms. Before doing so, each learned a breaking ball and a changeup to go with his fastball.
"I don't think this [pitching in a pro game] will be that major of a deal for them," Huntington said. "They had some tough outings [in extended spring], but they had some OK ones, too. We're right where we anticipated them being."
Even if neither could have possibly envisioned something like this 18 months ago.
"They're quality, quality young men and are so fascinated by everything," Huntington said. "They're soaking it all in and trying to learn and asking a lot of questions, and how they fit in is remarkable."
They're now about to find out if they fit in as pitchers, too.
Comments will be moderated. Keep comments relevant to the article. Remarks containing abusive and obscene language, personal attacks of any kind or promotion will be removed and the user banned. Final decision will be at the discretion of the Taipei Times.