Michael Vaughan retires with immediate effect
Former England captain Michael Vaughan announced his retirement from all professional cricket with immediate effect yesterday.
The 34-year-old Yorkshire batsman said the time was right for him to step aside and allow a new generation of players their chance to shine.
"It's been a hard decision," Vaughan, who as captain led England to their 2005 Ashes series triumph, told a news conference at Edgbaston.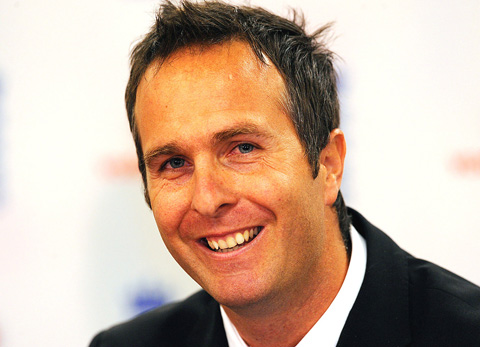 Michael Vaughan announces his decision to retire yesterday during a press conference in Birmingham, England.
PHOTO: AFP
"The decision came two weeks ago at Worcester when I realized there were younger players around the Yorkshire team, and certainly England, who need to be given a chance to move the game forward," he said.
"I wanted to give it one last effort to get into the Ashes squad. I've given it that shot but haven't been playing well enough. I've had a great career," he said.
Vaughan, England's most successful Test captain, has not played for his country since resigning the captaincy in August during the home series loss to South Africa.
His career has been blighted in recent years by a knee injury and speculation about Vaughan's future intensified after he failed to win a place in England's squad for the Ashes series against Australia which starts next week in Cardiff.
"It was always a long shot to get me back in [to the England team]," Vaughan said. "The last thing players like Ravi Bopara needed was for me to get a 100 [for Yorkshire] and for the media to build up my chances."
"Wherever I've played this year I felt that warmth and crowd reaction to try to give me one more chance. I now move on and wish the team all the best in an Ashes series they can win," he said.
Vaughan said he'd known for a while his time was up.
"I was getting 30 or 40 and suddenly I was getting out — in the past that wasn't happening," he said.
"It's very hard to explain when you know it's time to move on but it felt right to go before what's going to be a great Ashes series. I started emotional here today but it almost feels like I've been released," Vaughan said.
"Two weeks ago in the garden my little lad Archie bowled a ball that hit a weed and knocked my off-stump out. If a three-year old is bowling you out, it's time to move over," he said.
Asked what the key to his captaincy was, Vaughan replied: "I was a good actor. Captaining your country is a very special moment and the skill is making sure no-one knows what you're thinking."
Vaughan, who stressed he'd made no plans yet about his future, said he was encouraged by the way England under coach Andy Flower and captain Andrew Strauss were developing.
"I like the job [coach] Andy Flower and Andrew are doing. Andrew is a great leader and so far he seems to be dealing with it in a similar fashion. I'm sure he'll do a similar job," he said.
Vaughan said he'd been proud to play in an era of rapid change in cricket.
"I started at 16 in Yorkshire's second team and there was a can of lager at the table. Now it's smoothies, ice baths and Twenty20 cricket — and it's been a privilege to come through it," he said.
Comments will be moderated. Keep comments relevant to the article. Remarks containing abusive and obscene language, personal attacks of any kind or promotion will be removed and the user banned. Final decision will be at the discretion of the Taipei Times.