Yanks pummel Santana to win interleague series
The New York Yankees pummeled Mets pitcher Johan Santana for a career-high nine runs in three-plus innings to crush their New York rivals 15-0 to win baseball's interleague Subway Series on Sunday.
The Yankees, playing in their home stadium, scored nine runs in the fourth inning and lashed out 17 total hits — nine of them off Santana (8-4) — to take the deciding contest in the three-game series.
Their 15 runs were a season-high and the margin of victory was the largest in the 69 games between the two teams.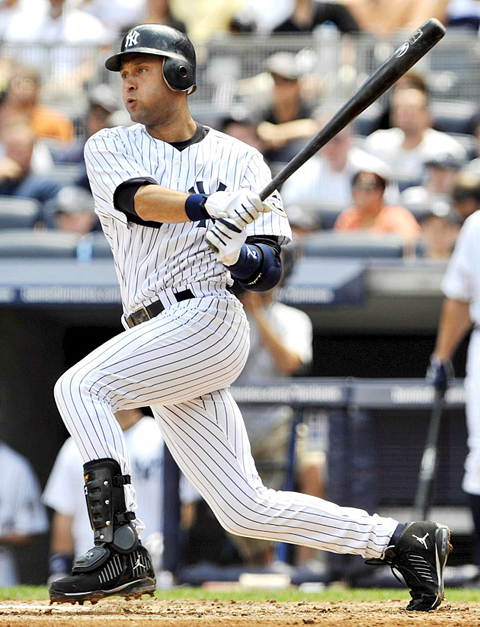 New York Yankees batter Derek Jeter follows through on a hit against the New York Mets at Yankee Stadium in New York on Sunday.
PHOTO: EPA
"You should have heard us in there [in the clubhouse] — it was wild," Yankees winning pitcher A.J. Burnett (5-3) told reporters.
To add to the Mets' misery, manager Jerry Manuel was ejected in the sixth for arguing over a called third strike on David Wright.
Shortstop Derek Jeter was a perfect 4-for-4 for the Yankees with Robinson Cano and Francisco Cervelli both getting three hits.
The American Leaguers scored four runs in the second inning and then unloaded on the National League Mets for nine more in the fourth.
Hideki Matsui and Cano both hit two-run homers in the big inning as the Yankees collected eight hits while sending 12 batters to the plate.
The start was the worst of Santana's career. He left after five batters in the fourth, having been charged with nine runs while striking out three and walking two.
Santana offered no excuses and said he was fine.
Reliever Brian Stokes gave up four more runs after Santana left, including Cano's homer, before the Mets finally retired the Yankees in the fourth.
Burnett held the Mets to four hits through seven innings. He loaded the bases in the third on two walks and a single before striking out Alex Cora and Fernando Martinez and getting Carlos Beltran to line out to shortstop.
In other interleague action it was:
• Phillies 11, Red Sox 6
• Rockies 7, Mariners 1
• Orioles 11, Braves 2
• Marlins 11, Blue Jays 3
• Pirates 6, Tigers 3
• White Sox 5, Brewers 4
• Rays 5, Nationals 4
• Cubs 3, Twins 2
• Royals 7, Reds 1
• Dodgers 6, Rangers 3
• Angels 6, Padres 0
• Giants 7, Athletics 1
• Astros 8, Diamondbacks 3
Comments will be moderated. Keep comments relevant to the article. Remarks containing abusive and obscene language, personal attacks of any kind or promotion will be removed and the user banned. Final decision will be at the discretion of the Taipei Times.