Despite Real's spree, Fabregas sticks to his Gunners
Arsenal captain Cesc Fabregas has moved to quell speculation over his future by pledging to stay with the Premier League club.
With Real Madrid embarking on a dramatic spending spree over the last week that saw the Spanish club sign Kaka for a world record £60 million (US$100 million) and then make an £80 million offer for Cristiano Ronaldo, it was inevitable that Spain midfielder Fabregas should be thrown into the mix as a potential Bernabeu signing.
But the 22-year-old, who joined Arsenal from Barcelona's youth academy, has no plans to emulate Ronaldo's proposed move to Spain.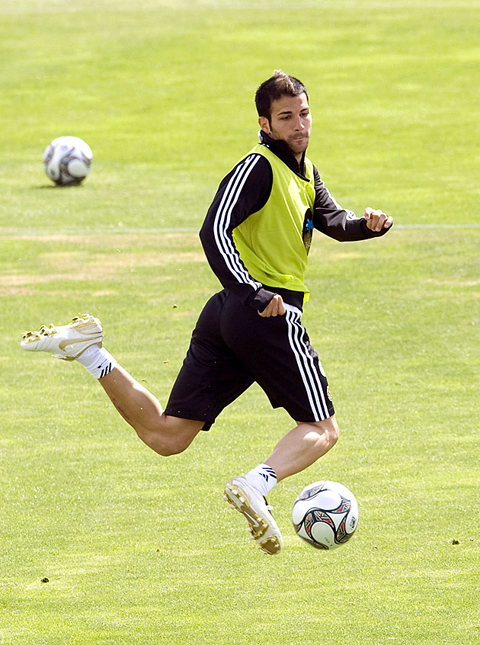 Spain midfielder Cesc Fabregas practices during a training session in Las Rozas, Spain, last Saturday.
PHOTO: AFP
"Of course I see my future at Arsenal. I have a very long contract with the club," Fabregas said in an interview with Arsenal TV Online. "I would have never signed that if I did not think I was capable of making it [to the end of the contract]. The boss knows that I really want to stay here."
"What you cannot stop is what people say about you," he said. "The press can write or say whatever they want. Here, I do not get involved at all. Since I am 18, they have been saying that — but I am still here."
Fabregas, who is under contract until at least 2014, added: "I just say what I feel — and what I feel is that I hope I can be at Arsenal for many years and lift trophies which they have never lifted before, like the Champions League, to lift the Premier League, FA Cups. I am really looking forward to it because I am sure the future is bright here."
Fabregas spent the best part of four months on the sidelines in the middle of last season following a knee problem.
He won't get much rest in the close-season as he is heading off to South Africa, where he will play for European champions Spain in the Confederations Cup.
"It is a pleasure to be involved," he said. "With Spain we are going through a moment which is historic and have not lost a match in something like 30, which is unbelievable. Now, when you see Spain play, even if they are losing you are not worried because you know they will come back."
Comments will be moderated. Keep comments relevant to the article. Remarks containing abusive and obscene language, personal attacks of any kind or promotion will be removed and the user banned. Final decision will be at the discretion of the Taipei Times.