Kuznetsova beats rattled Safina to win Paris title
Svetlana Kuznetsova remained stoic walking to the net as the new French Open champion.
She traded kisses on the cheek with opponent Dinara Safina, and only then did Kuznetsova allow herself a brief smile.
Not that she wasn't thrilled. The 2004 US Open champion now has a pair of Grand Slam trophies.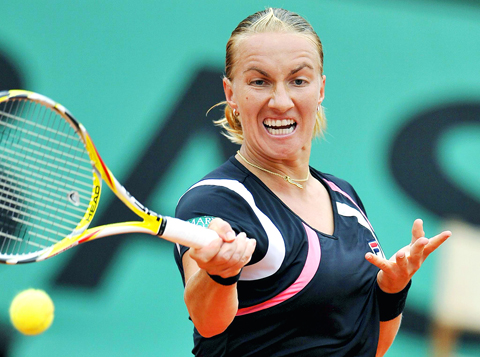 Svetlana Kuznetsova of Russia returns to compatriot Dinara Safina during their women's final match at the French Open at Roland Garros in Paris on Saturday.
PHOTO: EPA
"It's like having second baby, you know?" Kuznetsova said. "One baby you're happy, and second baby you're even more happy."
Showing uncharacteristic calm, Kuznetsova beat Safina 6-4, 6-2 in an all-Russian final on Saturday. Jitters have often betrayed Kuznetsova down the stretch in big matches, but she swept the final four games with steady play.
It was the top-ranked Safina who seemed rattled. She double-faulted seven times, struggled with her movement and appeared near tears late in the match.
Four-time winner of the French Open, Justine Henin, and others have criticized Safina's ranking because she has yet to win a major. She climbed to No. 1 in April and will remain there through at least late next month, but she's now 0-3 in Grand Slam finals.
The younger sister of two-time Grand Slam champion Marat Safin was runner-up at Roland Garros last year to Ana Ivanovic.
The loss ended her 16-match winning streak and was the latest in a series of lopsided women's finals at Roland Garros. The last one to go three sets was in 2001, when Jennifer Capriati beat Kim Clijsters.
The No. 7-seeded Kuznetsova ended Serena Williams' 18-match Grand Slam winning streak in the quarter-finals, and she had the more varied game against Safina, mixing the angle and pace of her groundstrokes as she scooted across the clay. Kuznetsova hit an occasional drop shot and won all six points when she came to the net.
Cool, damp weather made for slower conditions that lessened the impact of Safina's booming groundstrokes. And her serve was woeful: Safina lost more than half her service points and was broken five times.
"I really wanted to win — I just didn't handle it," Safina said. "I was a little bit desperate on the court, and didn't do the things that I had to do, didn't stay tough mentally."
She double-faulted for the last time on championship point, then slammed her racket to the court, which contributed to Kuznetsova's subdued reaction.
"I cannot smile at her face when you double-fault," Kuznetsova said. "I respect her a lot."
Leander Paes and Lukas Dlouhy captured their first men's doubles title as a pairing at the French Open on Saturday.
The Indo-Czech duo beat South African Wesley Moodie and Dick Norman of Belgium 3-6, 6-3, 6-2.
While Dlouhy lifted his first major men's doubles title, Paes took his total to five.
Comments will be moderated. Keep comments relevant to the article. Remarks containing abusive and obscene language, personal attacks of any kind or promotion will be removed and the user banned. Final decision will be at the discretion of the Taipei Times.