Furor over diffusers overshadows F1's season-opening GP
Formula One stewards cleared Brawn GP, Toyota and Williams to race in the season-opening Australian Grand Prix after rejecting the protests of three rival teams yesterday.
After six hours of deliberation at the Albert Park circuit, the governing International Automobile Federation (FIA) said the officials had dismissed protests by Red Bull, Renault and champions Ferrari.
The three immediately declared their intention to appeal and an FIA spokesman said the matter would now be dealt with by a court of appeal hearing in Paris some time after next month's Malaysian Grand Prix.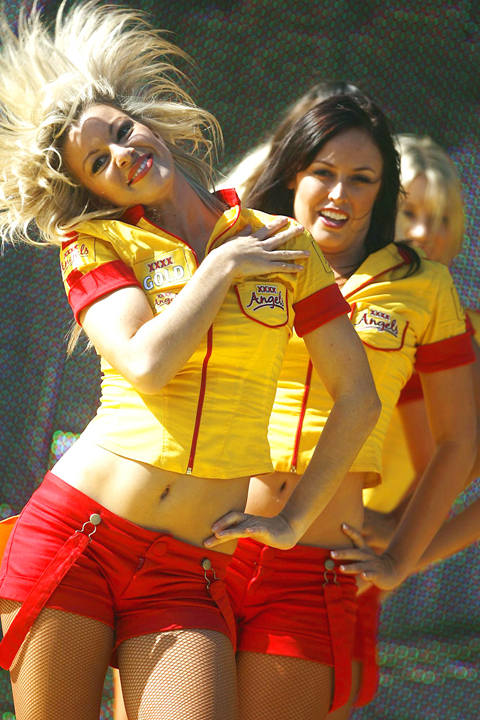 The Gold Angels perform on stage at the Albert Park Circuit in Melbourne, Australia, yesterday. The Australian Grand Prix takes place at the circuit on Sunday.
PHOTO: EPA
Brawn GP, who have replaced now-departed Honda, have been comfortably quickest in testing with a car that most of the other 10 teams believe to be illegal, but that the newcomers say conforms to the regulations.
Toyota and Toyota-powered Williams have faced similar accusations after also producing new cars with innovative, but contentious, rear diffusers — a key part that governs the quick and smooth flow of air under the car to increase down-force.
"Obviously when we came here, we felt our diffuser was within the regulations and the stewards have obviously agreed with our viewpoint," team owner Ross Brawn said, speaking after midnight in a near-deserted paddock. "We respect the right of our competitors to challenge the opinion of the FIA technical department and our opinion, but obviously the stewards have understood our reasoning and confirmed our diffuser is fully compliant."
Before the FIA's ruling Red Bull team principal Christian Horner said: "This is a sporting and competitive issue, it's nothing personal against the teams."
"It's illegal," Red Bull adviser Helmut Marko said on Wednesday ahead of his team's official protest. "That diffuser guarantees a five-tenths [of a second] advantage per lap."
Brawn's British driver Jenson Button, who has become a favorite for Sunday's race, brushed off the dispute.
"It's not something I have any control over personally," Button said.
Comments will be moderated. Keep comments relevant to the article. Remarks containing abusive and obscene language, personal attacks of any kind or promotion will be removed and the user banned. Final decision will be at the discretion of the Taipei Times.