NBA: James stars as Cavs set new club record
HISTORIC BASKET LeBron James became just the second man to post 2,000 points, 500 rebounds and 500 assists in a season four times with his first basket of the game
LeBron James scored 22 points with 11 assists on Wednesday as the Cleveland Cavaliers won a club-record 58th game of the NBA, 98-87 over New Jersey.
The Cavaliers have won 10 straight and with 11 games remaining in the regular season they have surpassed the previous franchise record of 57 victories, shared by the 1988-1989 and 1991-1992 teams.
Cleveland also improved to a league-leading 33-1 in home games.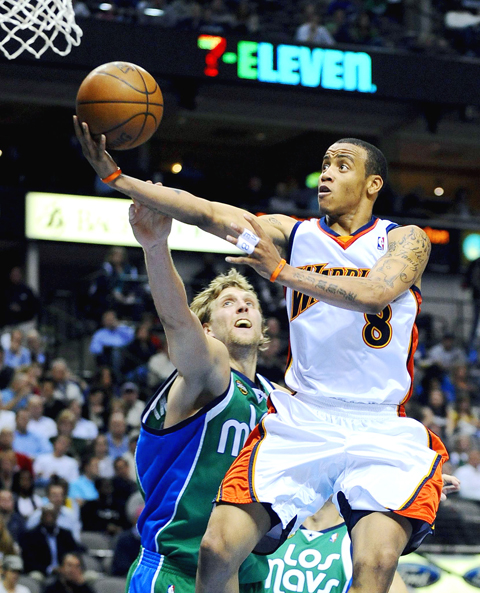 Monta Ellis of the Golden State Warriors, right, goes up for a basket against Dirk Nowitzki of the Dallas Mavericks in the second half of their NBA game at the American Airlines Center in Dallas on Wednesday.
PHOTO: EPA
Vince Carter scored 20 and Jarvis Hayes 18 for the Nets, whose playoff hopes are fading.
The Nets trailed throughout, but Keyon Dooling drained a three-pointer with 3 minutes, 54 seconds to play to give New Jersey an 82-81 lead.
Then James took over.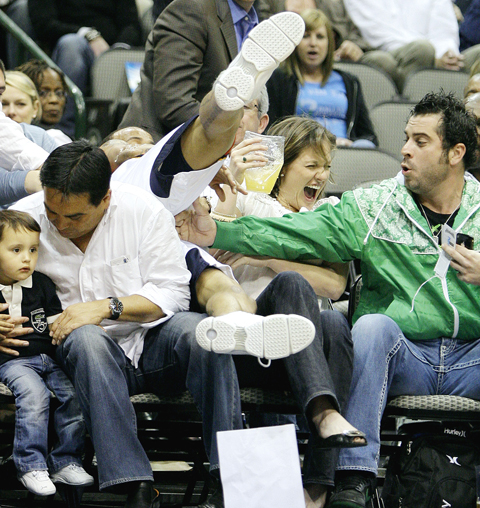 Golden State Warriors guard Monta Ellis falls into the crowd after chasing a loose ball during the first half of their NBA game against the Mavericks at the American Airlines Center in Dallas on Wednesday.
PHOTO: AP
He found Delonte West, who made a three-pointer to put the Cavaliers up 84-82.
After a New Jersey turnover, James made a layup that stretched the lead to four.
Fouled on a drive, James made both free throws to the delight of "MVP" chanting fans.
James had joined elite company with his very first basket of the game, which made him just the second player along with Oscar Robertson, to post 2,000 points, 500 rebounds and 500 assists in a season at least four times.
MAGIC 84, CELTICS 82
In Orlando, Florida, the Magic clinched their second consecutive Southeast Division title with a victory over reigning NBA champions Boston.
Dwight Howard blocked a potential go-ahead layup by Paul Pierce with 3.8 seconds to play, finishing with 24 points and 21 rebounds.
Orlando improved to 53-18, percentage points ahead of Boston for second in the Eastern Conference behind Cleveland.
"We get another banner," said Howard, of the division title that was secured as division rivals Atlanta also lost to San Antonio. "Hopefully we can get two more."
"The politically correct answer in the NBA is to say that we don't care about winning division titles and we're on to bigger things," coach Stan Van Gundy said. "Hopefully, we are, but I do care. I'd rather it be us than anyone else. I think it's big."
Pierce's jump shot with 1 minute, 27 seconds to play cut Orlando's lead to 83-82.
But the Celtics couldn't get over the hump without Kevin Garnett, who was limited to 16 minutes as he continues to regain fitness after missing 13 games with a strained right knee.
Pierce missed a potential game-winning three-pointer at the buzzer.
The Magic forced 18 turnovers and held Boston to 37 percent shooting, despite being out-rebounded 47-41.
"When we sit down and look at the film, we can see that we can get quality shots against very good defenses if we move the ball," Van Gundy said.
SPURS 102, HAWKS 92
In Atlanta, Georgia, Tony Parker poured in 42 points to lead the San Antonio Spurs to a victory over Atlanta on Wednesday, but the Hawks still clinched a playoff berth.
Parker posted his second-best total of the season, behind his career-high 55 against Minnesota on Nov. 5.
"This is a big win for us after two tough losses to Boston and Houston," said Parker, whose Spurs are fighting with Houston for the second seed in the Western Conference.
With All-Star Tim Duncan on the sidelines, Parker took over for the Spurs. He added 10 assists to his 42 points as Atlanta's attempts to slow him failed.
Despite the French player's heroics, the score was tied at the start of the fourth, after Atlanta rallied from an 11-point deficit.
The Hawks went scoreless for more than four minutes, while Parker kept up his torrid pace.
Parker's two free throws with 5 minutes, 13 seconds to play gave the Spurs an 88-81 lead and the Hawks couldn't get any closer.
The Hawks, who fell to 42-30, remained in fourth in the Eastern Conference. They were led by Joe Johnson, who had 30 points.
Atlanta secured a playoff berth as Milwaukee, Charlotte and New Jersey all lost on Wednesday.
"Now at least we know we're in, which is nice," Hawks center Al Horford said. "So we can just look ahead and keep trying to get better."
MAVERICKS 128, WARRIORS 106
In Dallas, Dirk Nowitzki and Jason Terry came back from a four-day break as sharp as ever and J.J. Barea led a late surge, helping Dallas cruise past Golden State.
Nowitzki and Terry were a combined 15-of-18 in the first half, keeping Dallas well ahead once the game was just a few minutes old.
Golden State managed to get within four points late in the third quarter, but then Barea got rolling.
Nowitzki and Terry each finished with 26 points, while Barea had 20 as the Mavericks shot 58.5 percent and scored their most points of the season.
Wednesday's other NBA results:
• Wizards 95, Bobcats 93
• Pacers 90, Heat 88
• 76ers 96, Timberwolves 88
• Raptors 115, Bucks 106
• Clippers 140, Knicks 135, OT
• Nuggets 101, Hornets 88
• Suns 118, Jazz 114
Comments will be moderated. Keep comments relevant to the article. Remarks containing abusive and obscene language, personal attacks of any kind or promotion will be removed and the user banned. Final decision will be at the discretion of the Taipei Times.