Sayonara for US as Japan reach final
SEMI-FINAL SLIP-UP US manager Davey Johnson said that a lack of preparation time had affected his team and went so far as to portray his side as underdogs
Defending Classic champion Japan defeated the US 9-4 on Sunday to book a date in yesterday's final against reigning Olympic champions South Korea.
"Japan won but just by looking at this game you can't say Japan was better than America. We don't feel like that," said Japan catcher Kenji Johjima, one of five Major League Baseball players on Japan's roster.
"But the fact we won in the US wearing Japanese uniforms ... is going to be a great memory for me. It's overwhelming," he said.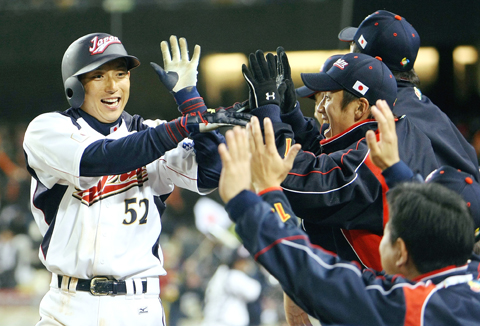 Munenori Kawasaki of Japan, left, celebrates with teammates after scoring on an RBI by Ichiro Suzuki in the eighth inning of the semi-final of the World Baseball Classic against the US on Sunday at Dodger Stadium in Los Angeles, California. Japan defeated the US 9-4.
PHOTO: AFP
US star Jimmy Rollins, a shortstop for World Series champion Philadelphia Phillies, said American players can learn from setbacks such as this semi-final loss and their second-round ouster in the inaugural 2006 Classic.
"They play with passion and we play with passion but they just wear theirs on their sleeves," Rollins said. "They don't worry about the big things. They do things right and if there's anything we can take away from what we've seen is to take advantage of another team's mistakes."
Japan manager Tatsunori Hara played down the idea of a gap between the US club superstars, long considered the game's elite, and the Japan League talent bolstered by a few top major leaguers.
"I really didn't think there was any difference in our abilities but I felt the Japanese team was able to concentrate a little more and was able to hang on and had a little bit more spirit. That's why we were able to win," Hara said.
"The significance is to play against the United States, where baseball was born. I really respect American baseball. To play against the American team was wonderful. The fact we won will remain forever in Japan baseball history," he said.
The event was created to give major league talent a chance to play for their homelands, but there will be just six major leaguers in the all-Asian final.
South Korea's Choo Shin-soo and Japan's Daisuke Matsuzaka, Ichiro Suzuki, Kosuke Fukudome, Akinori Iwamaura and Johjima have cracked the US major leagues and shown others in their homelands their true potential is mighty.
"In terms of playing against the Americans, Johjima and other major leaguers play on the Japanese team. I believe the fact they were on the team played a major role in the victory," Hara said.
"The major leaguers have become more of a reality for us. Ichiro, Johjima, Iwamura, Fukudome and Matsuzaka, the fact they are doing it makes us feel that in Japan we can do this. It really gives us encouragement," he said.
"It's a fact. We can do it. That's what led to this victory," Hara said.
US manager Davey Johnson is unwilling to surrender global supremacy just yet, however, citing the limited preparation time ahead of the upcoming North American campaign.
"It's just one game," Johnson said. "We had quality players. Some of our pitchers aren't as far along as the Japanese pitchers. All in all we put on a good show and we could have easily won."
"They have a lot of practice. It does give them a head start when you play them in early March but I thought our guys played well," he said.
Rollins went so far as to portray the US side as underdogs.
"We had fun being an underdog as far as knowing we were somewhat at a disadvantage as far as having time to prepare. But we knew what our job was and we had to go out there and try to find a way to get it done," Rollins said.
"It shows the support and passion these other countries have for baseball. In America we have so many sports — basketball, [American] football. But other countries, they stand up behind their team 100 percent," he said.
Comments will be moderated. Keep comments relevant to the article. Remarks containing abusive and obscene language, personal attacks of any kind or promotion will be removed and the user banned. Final decision will be at the discretion of the Taipei Times.