Asada, Kim renew their tiff at Los Angeles Worlds
Reigning World champion Mao Asada and recently crowned Four Continents champion Kim Yu-na are two examples of how Asians have turned women's figure skating into their personal playground.
Japan's Asada and South Korea's Kim will headline a strong field as they attempt to jump and spin their way to glory at this year's World Figure Skating Championships, which gets underway today at Staples Center Arena.
In what could be a preview of the gold medal showdown at next year's Vancouver Winter Olympics, the pair are hoping that a flap over whether Japanese skaters intentionally obstructed Kim during her warmups doesn't overshadow this week's competition.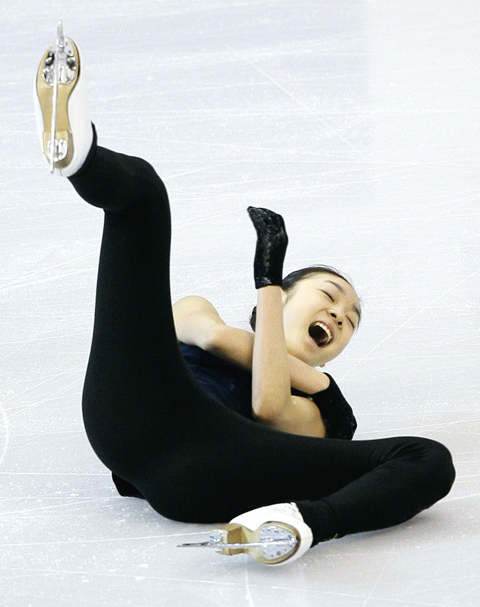 Kim Yu-na of South Korea falls during practice for the World Figure Skating Championships in Los Angeles, California, on Sunday.
PHOTO: AP
"I am trying to find a way to deal with it," Kim recently told South Korea's SBS network. "Particularly at this year's Four Continents championship. I felt it was a bit terrible. Too much."
The Japan Skating Federation moved quickly to deny its skaters had blocked Kim from practicing her moves during warm ups at the Four Continents Championship last month in Vancouver.
The federation said Japanese skaters "compete in keeping with sportsmanship and it is not true they have intentionally committed acts of obstruction."
The two 18-year-olds have each won three and lost three in their head-to-head career international meetings.
Kim will have the crowd on her side at Staples Center thanks to Los Angeles' sizeable South Korean community, which is expected to turn out in force.
Kim's victory at the Four Continents was a major breakthrough for South Korea's first international figure skater.
Three months ago she led after the short program at the Grand Prix final only to be overtaken by Asada. At last year's Tokyo Worlds, Kim led after the short program before being passed by Asada and her Japanese teammate Miki Ando.
Asada, who was turning triple axles since she was 13, is a three-time Japan champion. She was Japanese champion at 15 and does quadruples in practice.
She is a skating icon in Japan and has filmed a commercial with her pet poodle, Aero.
Ando is the lone woman to have completed a quad in competition. The ladies field also includes last year's World Championship runner-up Carolina Kostner of Italy.
The men's title is open for the taking, following the retirement of last year's gold medalist Jeff Buttle of Canada and the absence of last year's bronze medalist Johnny Weir of the US, who didn't make the US squad after placing fifth at the nationals.
Four Continents and two-time Canadian champion Patrick Chan is expected to challenge for the title.
Comments will be moderated. Keep comments relevant to the article. Remarks containing abusive and obscene language, personal attacks of any kind or promotion will be removed and the user banned. Final decision will be at the discretion of the Taipei Times.