Reds hoping not to play on Hillsborough anniversary
UEFA said on Monday that it would do its utmost to ensure that Liverpool do not have to play their Champions League quarter-final tie on the 20th anniversary of the Hillsborough disaster.
"We are aware of the huge significance of the April 15 date for both Liverpool FC and their fans, and that is why we will do our utmost to make sure that the club does not have to play its UEFA Champions League second-leg quarter-final match on that day," UEFA president Michel Platini said. "I have been in regular correspondence with Liverpool FC on this matter for some time now and fully sympathize with the club's feelings as to the importance of respecting the date of April 15 for those who lost their lives at Hillsborough."
"This being the 20th anniversary of that tragic disaster in 1989 makes it even more relevant and we will take this into account," Platini said.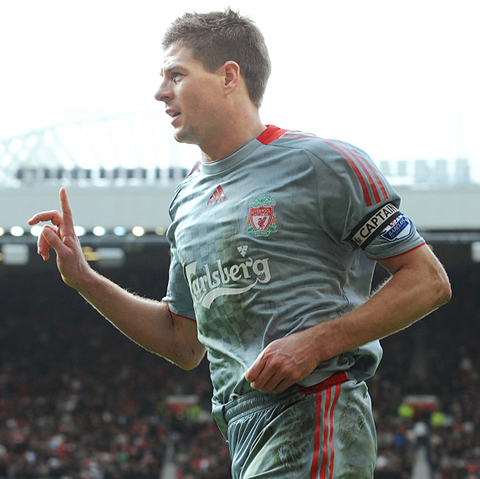 Liverpool's Steven Gerrard celebrates scoring a penalty against Manchester United during their Premier League match at Old Trafford in Manchester, England, on Monday.
PHOTO: AFP
Liverpool skipper Steven Gerrard on Sunday appealed to UEFA to reschedule the club's second-leg tie scheduled for Wednesday, April 15.
Gerrard, who lost a cousin at Hillsborough, told the club's Web site: "We hope that UEFA show some common sense. You would think they would accept the significance of the date for the people of Liverpool, but unfortunately feelings like that don't always come into it."
"Hillsborough is always on my mind because I lost a member of my family there and any success we get as a club this year will be dedicated to those people who lost their lives," Gerrard said.
The date will mark 20 years since 96 Liverpool fans lost their lives at Hillsborough in Sheffield, which was hosting the club's FA Cup semi-final against Nottingham Forest.
Comments will be moderated. Keep comments relevant to the article. Remarks containing abusive and obscene language, personal attacks of any kind or promotion will be removed and the user banned. Final decision will be at the discretion of the Taipei Times.