Venezuela reach Classic semi-finals
JOY IN CARACAS Ramon Hernandez hit a homer in the seventh inning to put Venezuela into the semi-finals, while Cuba are still in with a shout after beating Mexico
Venezuela became the first World Baseball Classic semi-finalists and Cuba sustained hopes of a 39th consecutive global finals appearance in tension-packed second round triumphs on Monday.
Ramon Hernandez blasted a seventh-inning solo home run to power Venezuela over previously unbeaten Puerto Rico 2-0 in Miami, advancing the South American squad into next weekend's semi-finals at Los Angeles.
"It was a big win," Venezuela manager Luis Sojo said. "The big thought in the locker room was to qualify for Los Angeles and we are there. I believe this team will do their best job. I'm proud of them."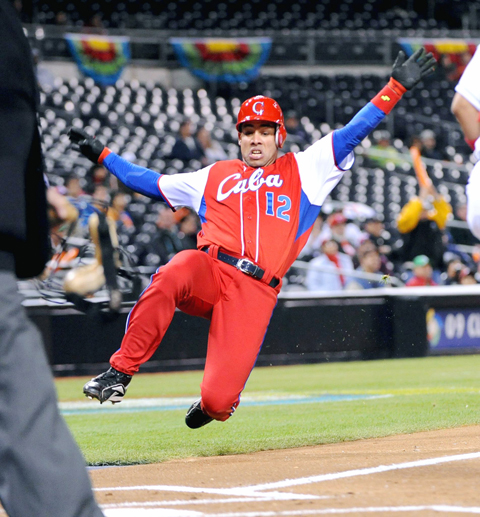 Cuba's designated hitter Michel Enriquez dives into home plate to score the first run against Mexico during the first inning of their Round 2 game of the World Baseball Classic in San Diego, California, on Monday.
PHOTO: EPA
Frederich Cepeda hit a three-run double and Yoennis Cespedes added a two-run triple to power Cuba's 7-4 elimination-game triumph over Mexico, sending the Cubans into a game today that will decide the last Classic semi-finalist.
"We had the opportunity to really hit the ball and score some runs," Cepeda said. "We put on a great show."
Two more semi-finalists were to be decided yesterday when defending Classic champions Japan and reigning Olympic champions South Korea met in San Diego and Puerto Rico took on the US in Miami.
Puerto Rico trounced the US squad 11-1 on Saturday in a game halted by the mercy rule and unless the Americans win the rematch, they will repeat their humbling second-round exit from the inaugural 2006 Classic.
The US and Puerto Rican teams, both filled with Major League Baseball stars, were pre-tournament favorites, but now only one will reach the last four.
"We're going to play a US team that's a great team. It's practically an all-star team," Puerto Rico's Carlos Beltran said. "We will be ready. We will hold our heads high and play hard."
Japanese right-hander Yu Darvish will pitch against South Korean left-hander Bong Jung-keun, the winning pitcher in South Korea's 1-0 win over Japan in Tokyo after Japan trounced South Korea 14-2 earlier.
"The experience of losing in Tokyo, I think actually that works to our advantage," Japan third baseman Shuichi Marata said.
Venezuela led 1-0 when Hernandez opened the seventh inning with a towering blast off Puerto Rican pitcher Carlos Alvardo that bounced off the top of a wall in the outfield and back onto the field. Umpires held him at third base.
"I was looking for a big hit because we had only one run and we needed another," Hernandez said. "With the Puerto Rican team you never know what will happen because it's a team with a lot of big leaguers."
Crew chief Ed Rapuano huddled with his fellow umpires, tried in vain to view a video replay and instead went with a consensus that the ball was a homer.
"The third base umpire was absolutely positive the ball went over the wall," Rapuano said. "He had a great angle on it. The other three umpires did not. That's what I based the home run on."
Puerto Rico manager Jose Oquendo had no complaints.
"The homer was a homer. That's the way they saw it," Oquendo said. "They did a good job."
The Cubans await the Japan-South Korea loser. Japan blanked Cuba 6-0 on Sunday and the South Koreans beat Cuba 3-2 in the Beijing Olympic final, but Cuban manager Higinio Velez said his team would be better prepared in a rematch.
"We said we were ready to overcome defeat and we were," Cuba manager Higinio Velez said.
"Now we will do everything we didn't do before. We will play better and we will be ready," he said.
Cuba broke a 2-2 deadlock in the fifth inning when Leonys Martin and Hector Olivera singled, Michel Enriquez walked and Cepeda blasted a double to right field off Mexico major league starter Jorge Campillo to score three runs.
Cuba struck again in the seventh when Cepeda and Yulieski Gourriel each singled and scored on a triple by Cespedes for a 7-2 edge. Jorge Cantu and Christian Presichi homered for Mexico but it was too little and too late.
Comments will be moderated. Keep comments relevant to the article. Remarks containing abusive and obscene language, personal attacks of any kind or promotion will be removed and the user banned. Final decision will be at the discretion of the Taipei Times.