Alshammar breaks world record, but is later disqualified
Sweden's Therese Alshammar broke her own 50m butterfly world record at the Australian swimming titles yesterday, but was later disqualified by Swimming Australia for wearing two swimsuits.
World champion Alshammar set a time of 25.44 seconds in the morning qualifying heats to take 0.02 seconds off the record of 25.46 seconds she set in Barcelona, Spain, on June 13, 2007.
But officials later discovered that Alshammar was wearing two suits in the race and ruled that the time would not stand. Swimming Australia said that under swimming governing body FINA's new rules that were ratified last weekend and Swimming Australia's rules instituted last year, Alshammar would be disqualified because it states that swimmers may only wear one suit.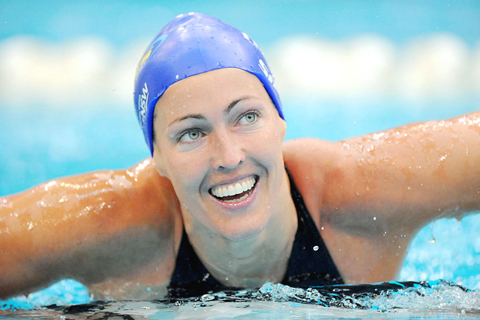 Swedish swimmer Therese Alshammar smiles as she makes her way out of the pool after she set a world record time during a heat of the 50m Butterfly at the Telstra Australian Swimming Championships in Sydney yesterday. Alshammar had her new world mark erased for breaking the rules by wearing two suits.
PHOTO: EPA
Alshammar had initially planned to appeal the decision, which came after a five-hour meeting. But later yesterday, Swimming Australia spokesman Ian Hanson said Alshammar had withdrawn her appeal.
Australia head coach Alan Thompson was blunt when asked if he felt Alshammar was cheating.
"Well obviously, I guess in general terms any breach of the rules is cheating," he said. "The main point to be made is that she wore two swimsuits and it was quite clear on the video and it was noticed by quite a large number of people around the pool this morning."
Triple Olympic gold medalist Stephanie Rice said she was surprised that a swimmer would make such a mistake, given the attention the FINA rules had been given.
"It is a bit surprising that people are still wearing two suits after they [FINA] made the rules," Rice said.
On Saturday in Dubai, FINA adopted new rules for the high-tech suits that helped produce more than 100 world records in just over a year.
The guidelines "revise the requirements for swimsuit approval" and it was said they would be in place for the world championships in Rome that start on July 17.
FINA also stipulated that swimsuits should not cover the neck and will not extend past the shoulders and ankles.
"I am a bit shocked myself, and I am very happy," Alshammar said before she was disqualified.
Comments will be moderated. Keep comments relevant to the article. Remarks containing abusive and obscene language, personal attacks of any kind or promotion will be removed and the user banned. Final decision will be at the discretion of the Taipei Times.