Joe Calzaghe wins his latest battle in London's High Court
Undefeated world boxing champion Joe Calzaghe won his latest battle on Monday, a victory in the High Court in London against his former manager and promoter Frank Warren, over unpaid fees.
Judge Wyn Williams ruled that Warren owed the Welsh fighter, who retired last month, some £2 million (US$2.8 million) in unpaid fees, dismissing Warren's claim for £1 million from Calzaghe.
Warren had alleged that Calzaghe owed him the money for breach of contract over his final bout in the ring, a victory over Roy Jones in New York in November last year.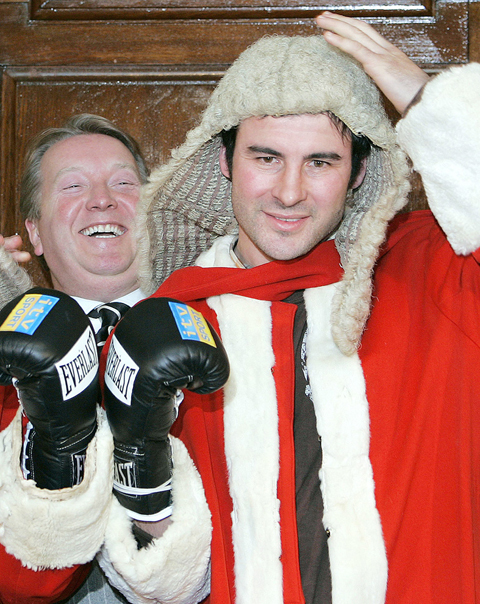 Boxing promoter Frank Warren, left, laughs as British boxer Joe Calzaghe dresses up as a judge during a press conference in London on Nov. 21, 2005.Calzaghe won his claim over unpaid fees from former promoter and manager Frank Warren on Monday.
PHOTO: AP
Calzaghe denied, however, that he had entered into a verbal contract with Warren to continue boxing for him, and claimed he was owed more than £2 million tied to his victory over Bernard Hopkins in April last year.
He also alleged that Warren and his company Sports Network convinced him to sign contracts under duress because he was dehydrated and hungry while preparing for fights.
The fighter also claimed that Warren had a conflict of interest because he was managing Calzaghe and Sports Network was promoting his fights.
Reacting to the ruling, Calzaghe said: "I am relieved and delighted at the court's decision ... It totally vindicates what has been my stance throughout."
"The fight with Frank Warren was not one which I sought, but I am delighted to have remained undefeated through it," Calzaghe said.
"The decision means that I will now be paid money which has been owed to me for almost a year and which was hard earned in the ring against Bernard Hopkins," he said.
"In his ruling the judge says that the idea of the verbal agreement 'has been raised as a smokescreen in an attempt to avoid payment to Mr Calzaghe of a very substantial sum of money,'" Calzaghe said.
"This completely reflects my position and means that the judge has made it clear that I was fully within my rights to promote my final bout against Roy Jones Jr in New York," he said.
"The court decision means I can move forward into my retirement from the ring with a difficult chapter closed with justice having been done," he said.
Comments will be moderated. Keep comments relevant to the article. Remarks containing abusive and obscene language, personal attacks of any kind or promotion will be removed and the user banned. Final decision will be at the discretion of the Taipei Times.