Disgraced sprinter links up with BALCO's Conte
British sprinter Dwain Chambers has resumed his links with Victor Conte, the man behind the doping scandal that led to his two-year ban from the sport.
Chambers, the new European indoor 60m champion, is using a legal high-tech breathing device to boost his oxygen capacity under the supervision of Conte.
Conte, the founder of the Bay Area Laboratory Co-Operative, has put Chambers on a program that involves breathing low and high oxygen through a hypoxicator to boost his red blood cell count.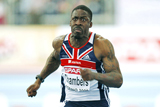 Dwain Chambers competes during the semi-finals of the men's 60m at the European Athletics Indoor Championships on March 7 in Turin, Italy.
PHOTO: AFP
"This allows me to have a deeper training load," Chambers told British media. "I suffer less lactic acid, delivering more oxygen to the muscles. It's a shame we didn't know this five years ago."
Chambers tested positive for THG in 2003 and served a two-year suspension. He was the first athlete with connections to Conte to test positive for the previously undetectable steroid.
Conte was the central figure in the wide-ranging BALCO scandal that enveloped several top-level athletes, including Marion Jones, Tim Montgomery and Barry Bonds. Conte pleaded guilty and served four months in prison.
The oxygen device he has been using is called the "AltoLab Altitude Simulator." It simulates the effect of training at high altitude and is legal under World Anti-Doping Agency rules.
Chambers has remained close to Conte.
"I am a forgiving man," Chambers said. "I have forgiven myself, I have forgiven him. I do not blame him for anything that occurred during that period. I ruined my career, nobody else did that."
Comments will be moderated. Keep comments relevant to the article. Remarks containing abusive and obscene language, personal attacks of any kind or promotion will be removed and the user banned. Final decision will be at the discretion of the Taipei Times.