Mardy Fish beats Russian qualifier at Delray Beach
Mardy Fish of the US became the first top seed in the 17-year history of the Delray Beach International Tennis Championships to win the title, beating Russian qualifier Evgeny Korolev 7-5, 6-3 on Sunday.
Fish endured a wind and a rain delay of about an hour before converting his fifth match point to earn his third career tournament championship.
"Today was one of those matches where you just want to get off the court with a win," Fish said. "It was like I don't care what the score is, I don't care what it looks like, I just want to get off this court with a win."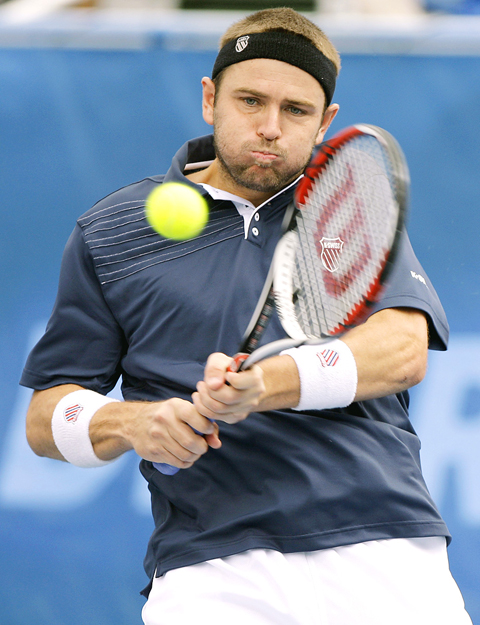 Mardy Fish returns the ball to Evgeny Korolev during the finals of the Delray Beach International Tennis Championships in Delray Beach, Florida, on Sunday.
PHOTO: AP
Heading into the match, Fish had won the 2003 Stockholm and 2006 Houston tournaments. He lost in the San Jose, California final earlier this month.
"It's been well chronicled that I've had a lot of losses in finals," Fish said. "I'd certainly like to feel I'm a better player than three titles, but it is what it is.
Korolev, who initially held a 5-3 lead in the match, said Fish was too strong and too experienced for him to contend with during the final.
He dedicated his weeklong success to his deceased nephew, Andy, the son of his brother and physiotherapist, Alexey.
"When he passed away I promised myself when I reached a final or win a tournament I dedicate it to him," said Korolev, close to tears. "All my wins go out to him. It's very emotional. He was two-and-a-half weeks old. I learned a couple of things from him; that you have to fight and how to appreciate every day that I've lived."
When the players finally returned to the court after the rain delay at 1-1 in the first set, the power-hitting Korolev pulled ahead to a 5-3 lead.
"I'm the No. 1 seed, it started out rough in the first set and it starts creeping in your mind, am I going to break this thing or what?" said Fish of the 17-year curse of top seeds not winning it all at Delray Beach.
As it turned out, Korolev couldn't hold on to his advantage and lost the next four games to drop the first set.
In the second set, Fish immediately broke out to a 3-0 lead and held on to the service break throughout the remainder of the match.
Fish failed to close out the match in his first four match points — two on Korolev's serve in the eighth game and two on his own serve in the final game.
Comments will be moderated. Keep comments relevant to the article. Remarks containing abusive and obscene language, personal attacks of any kind or promotion will be removed and the user banned. Final decision will be at the discretion of the Taipei Times.