NHL: Brodeur leads Devils over Flyers
Martin Brodeur earned his 100th NHL regular-season shutout with a 27-save effort as the New Jersey Devils extended their lead in the NHL's Atlantic Division with a 3-0 victory over second-place Philadelphia on Sunday.
The shutout was the second in three games since Brodeur returned on Thursday from an elbow injury, and moved him within three of tying Terry Sawchuk's mark of 103. It also was Brodeur's 547th career victory, four shy of Patrick Roy's record.
Brodeur has four shutouts in 13 games this season.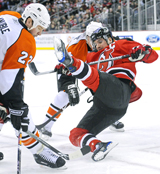 The New Jersey Devils' Jamie Langenbrunner, right, loses his balance as he fights for the puck with the Philadelphia Flyers' Mike Knuble, left, and Danny Briere during their game on Sunday in Newark, New Jersey.
PHOTO: AP
Jamie Langenbrunner, Brian Gionta and Johnny Oduya scored to help the Devils win for the eighth time in 10 games and open a nine-point lead in the division.
The Flyers are 7-3-1 in their last 11 games.
PANTHERS 6, CAPITALS 2
At Washington, Stephen Weiss, Bryan McCabe and Jay Bouwmeester scored power-play goals in the first period as Florida held Washington's Alex Ovechkin without a point until the final minute.
Michael Frolik, Richard Zednik and Jassen Cullimore also scored for Florida, McCabe finished with three assists and Weiss had two.
The Southeast Division-leading Capitals heard boos in their own building and pulled starting goalie Jose Theodore after falling behind by three goals in the first.
PENGUINS 4, STARS 1
At Dallas, NHL scoring leader Evgeni Malkin had a goal and two assists and Marc-Andre Fleury made 20 saves as Pittsburgh won its third in a row without injured captain Sidney Crosby.
Malkin had the primary assist on goals by Jordan Staal and Kris Letang and struck on the power play in the second period. Malkin has 92 points in 64 games.
Miroslav Satan also scored for Pittsburgh, 5-1-1 in its last seven and 2-0 on its five-game trip. The Penguins jumped over Buffalo and Carolina into eighth place in the Eastern Conference.
The Stars lost their season-high fifth straight, finishing a 1-5 homestand.
BLACKHAWKS 4, KINGS 2
At Chicago, Jonathan Toews, Duncan Keith and Dustin Byfuglien scored in the first and Antti Niemi made 22 saves in his first NHL start as Chicago downed Los Angeles.
Dave Bolland added a power-play goal with 43 seconds left in the third to help the Blackhawks snap an 0-2-1 skid. The Blackhawks have not gone more than three games without a win this season and haven't dropped more than two straight in regulation.
In other games it was:
• Lightning 8, Flames 6
• Canucks 3, Blue Jackets 1
Comments will be moderated. Keep comments relevant to the article. Remarks containing abusive and obscene language, personal attacks of any kind or promotion will be removed and the user banned. Final decision will be at the discretion of the Taipei Times.