NHL: Cammalleri nets hat-trick to spur Flames' victory
Michael Cammalleri recorded his first career hat-trick to help the visiting Calgary Flames beat the surging Vancouver Canucks 4-3 on Thursday.
Flames left wing Curtis Glencross took a Vancouver turnover and scored the winner with six minutes left in the third period as Calgary (13-9-1) pulled within three points of the Canucks (14-7-2) for the Northwest division lead.
Glencross, an off-season acquisition for the Flames, is finding form with his new team and has scored in all of his last three games.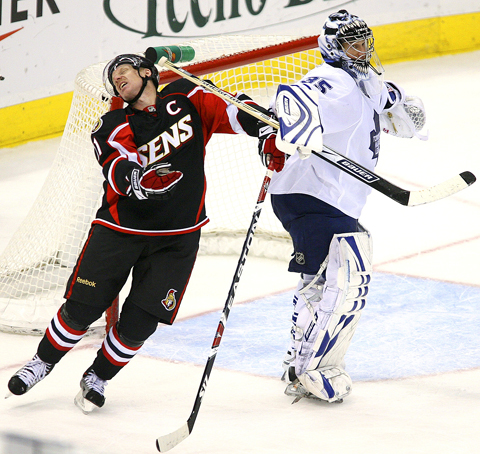 The Ottawa Senators' Daniel Alfredsson, left, of Sweden gets clipped by the stick of the Toronto Maple Leafs' Vesa Toskala during the third period of their game in Ottawa, Canada, on Thursday.
PHOTO: AP
It was Vancouver's first loss in regulation since the team fell to the Detroit Red Wings 3-2 on Nov. 2.
The Canucks tied the Flames 3-3 on a third-period goal from Mason Raymond before goalie Curtis Sanford surrendered the winner.
Sanford suffered his first loss since filling in for injured Vancouver goalie Roberto Luongo who has been out with a strained groin since Saturday. Sanford finished with 29 saves.
"We had some good chances, but we let up in the second a little and they got back in it," Raymond told reporters after the game. "We have to keep getting shots at the net like we want and get ready for Saturday."
Calgary fell behind early after Darcy Hordichuk and Daniel Sedin scored to give Vancouver a 2-1 advantage.
But Cammalleri tied the game 17 minutes into the second and gave the Flames the lead 1:18 into the third.
The divisional rivals will meet again on Saturday in Calgary.
SENATORS 2, MAPLE LEAFS 1
Jason Spezza and Daniel Alfredsson scored in a shootout to give Ottawa a 2-1 victory over Toronto on Thursday night.
Spezza beat Vesa Toskala with a shot on Ottawa's first attempt.
Alfredsson also shot and scored on the Senators' third attempt to give Ottawa its second straight win.
Alex Auld stopped Nikolai Kulemin and Lee Stempniak in the shootout after turning aside 25 shots during the game.
Mike Fisher returned to the Senators' lineup and opened the scoring early in the first. Kulemin drew Toronto even moments later.
Toskala stopped 34 shots as the Maple Leafs earned a standings point despite extending their losing streak to five (0-3-2).
Overshadowing the loss, the Maple Leafs reached a deal with Brian Burke to take over as the team's president and general manager.
Comments will be moderated. Keep comments relevant to the article. Remarks containing abusive and obscene language, personal attacks of any kind or promotion will be removed and the user banned. Final decision will be at the discretion of the Taipei Times.