Mao Asada takes lead at NHK Trophy
LAST CHANCE Japan's Asada hopes to book a spot in the Grand Prix finals next month. Veteran Chinese pair Pang Qing and Tong Jian led the pairs yesterday
World champion Mao Asada produced a season-best score yesterday to take the lead after the short program of the NHK Trophy.
Skating to Clair de Lune, Japan's Asada hit all her jumps at Yoyogi Arena to receive 64.64 points and finish ahead of the US' Ashley Wagner, who was second with 61.52 points.
"It was my best performance of the season," Asada said. "In practice, I focused on hitting my jumps and was able to do that. After I hit my first two jumps, I was a bit nervous and that effected my spiral sequence."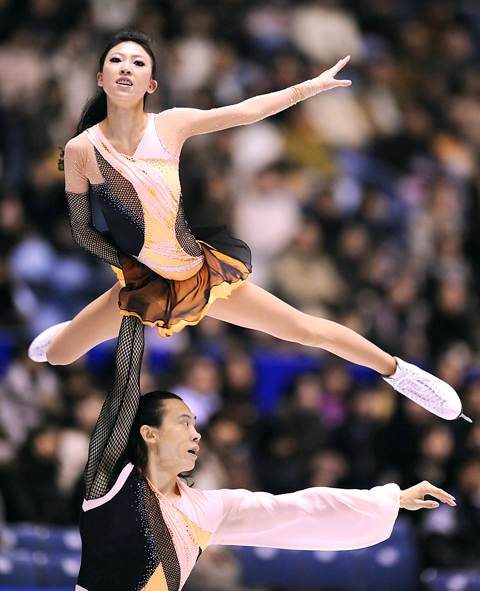 Chinese pair Pang Qing, top, and Tong Jian perform during the pairs' short program at the NHK Trophy International Figure Skating Competition in Tokyo yesterday. The Chinese pair finished first with 63.10 points as their season-best score.
PHOTO: AFP
Asada finished second in the Trophee Bompard in Paris and is looking to secure a spot in the Grand Prix finals with a first or ­second-place finish in the NHK Trophy, the last opportunity to qualify for the finals next month.
"I was a bit nervous today," Asada said. "I hope I can relax and be aggressive tomorrow in the free program."
South Korean Kim Yu-na, Canada's Joannie Rochette and Italy's Carolina Kostner have already secured places in the Grand Prix finals, leaving three spots to be decided in Japan.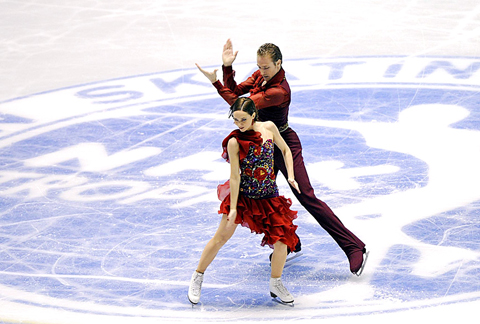 Nathalie Pechalat, left, and Fabian Bourzat of France perform in the ice dance compulsory event at the NHK Trophy skating competition in Tokyo yesterday.
PHOTO: EPA
Finland's Laura Lepisto, also aiming to secure a place in the finals, was third with 59.14 points. Asada's compatriot Yukari Nakano, a silver medalist at Skate America, was only able to manage a double flip instead of a triple on her opening element and finished fifth with 54.82 points.
American Mirai Nagasu stepped out of her opening lutz and had to settle for eighth place with 50.14 points.
In the men's short program, Japan's Nobunari Oda hit all his jumps, including four triples, to finish in first place with 81.63 points.
"I was more nervous before today's competition than any other in my career," Oda said. "My practice this morning was not good and this gave me a bit of anxiety."
Oda is coming off a one-year suspension after sitting out last season for a drunk driving arrest.
World bronze medalist Johnny Weir of the US skated a clean program to finish second with 78.15 points, with France's Yannick Ponsero third after receiving 74.39 points from the judges.
"It was a big improvement over Skate America," said Weir, who won the silver at Skate America. "I felt comfortable on the ice which is a bit of a surprise because I have a terrible cold. It's not the best I can do but considering my condition I did a good job."
The Chinese pair of Pang Qing and Tong Jian were first in the pairs after the free skate with 63.10 points. Americans Rena Inoue and John Baldwin were second followed by Canadians Jessica Dube and Bryce Davison.
Comments will be moderated. Keep comments relevant to the article. Remarks containing abusive and obscene language, personal attacks of any kind or promotion will be removed and the user banned. Final decision will be at the discretion of the Taipei Times.