Nadal, Federer pull out, Murray beaten
WIDE OPEN Both Rafael Nadal and Roger Federer pulled out of their quarter-finals and Andy Murray's attempt at a third straight Masters was ended by David Nalbandian
The Paris Masters was blown wide open on Friday when both Rafael Nadal and Roger Federer pulled out of their quarter-finals with injuries.
Second seeded Federer was the first to go, announcing that he would not be able to take his place on the center court as planned against James Blake. Top seed Nadal did see some action shortly afterward, but promptly withdrew with an injury to his right knee after dropping the first set 1-6 to Russia's Nikolay Davydenko.
It was a double body blow for the prestigious tournament, which has been hit by a rash of injury withdrawals in recent years.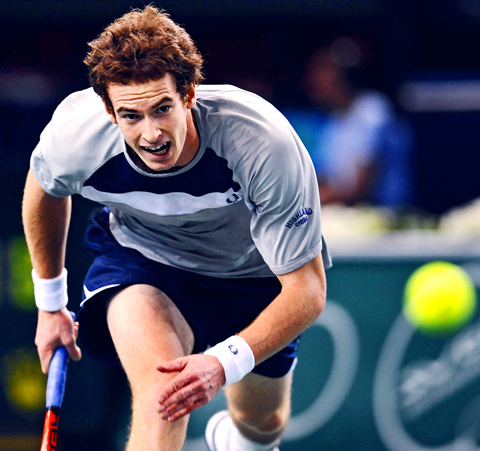 Scotland's Andy Murray runs toward a ball played by Argentinia's David Nalbandian during their ATP Masters Series quarter-final at the Palais Omnisport de Paris-Bercy in Paris on Friday.
PHOTO: AFP
In the day's opening quarter-final, Andy Murray's hopes of making tennis history by winning three consecutive Masters Series titles were wrecked by an outstanding David Nalbandian. The defending champion from Argentina won their quarter-final tie 7-6 (7/3), 6-3, producing the best tennis of the week as his love affair with Paris in the autumn continued.
The shocks of the day, however, concerned Federer and Nadal, who had been seeded to face off in today's final in what would have been their first meeting on court since their epic Wimbledon clash in July.
The second seed, who has never won a tournament in Paris, strained his back going for a shot in his opening match on Wednesday against Sweden's Robin Soderling and it came back overnight on Thursday to haunt him. It was the first time in his career that Federer had been forced to withdraw from a tournament after it had started and it will cast doubts over whether he will be able to defend his Masters title in Shanghai starting in nine days time.
"I'd had a bad back for a couple of days — it came about against Soderling [on Wednesday] — went away for the next match against Cilic, but came back during that match and hasn't gone away since," he said. "With overnight painkillers you sort of get over it, but I just can't play the way it is right now. Hopefully it will be fine for Shanghai."
The withdrawal improves Blake's chances of reaching the Masters finals and he now goes on to play Jo-Wilfried Tsonga for a place in the final following the Frenchman's 5-7, 6-4, 7-6 (7/5) victory over Andy Roddick of the US in the late match.
It was in the second set that Tsonga showed courage, saving at least 10 break points. Roddick got a break of service ahead in the third set, but Tsonga once more came back to take the victory.
"Thanks to everyone for having supported me right to the end," Tsonga told the crowd afterward.
To go to Shanghai, starting on Nov. 9, Tsonga must beat Blake and hope that Nalbandian loses to Davydenko in the other semi-final, or Tsonga must beat Nalbandian in the final to get his ticket to China.
Nadal said that he had felt a pain in his knee at the start of the tournament and that it had got worse on Thursday.
"Today [Friday] when I wake up I feel it a lot," he said. "I had no power in my right leg for play with the backhand and I was never going to win a match like this. Hopefully I will be fine for Shanghai, but you never know."
Nalbandian played some of the best tennis of his career at this same tournament last year, defeating both Federer and Nadal in straight sets on his way to clinching back-to-back Masters titles. And the Paris air appears to have lifted his spirits again as he saw off Murray, who had won the last two ATP tournaments in Madrid and St Petersburg and who had a chance here to become the first man to win three consecutive Masters Series titles after Cincinnati and Madrid.
Nalbandian broke first in the fourth game of the first set to lead 3-1, but he promptly gave that back in the following game with some sloppy play. A tired-looking Murray was hanging on grimly and took the set into a tie-break, but he fell quickly behind in that and never looked like turning the tables as he has done so often in recent games. Nalbandian jumped out into a 2-0 lead in the second set, only for Murray to get back on level terms again, but when the 21-year-old Scot dropped his serve again in the next game the writing was clearly on the wall.
"The standard of points was excellent," Murray said. "I am obviously disappointed to lose, but I'm glad that I played against a guy as good as him and it took him playing a great match to beat me. The tie-break I didn't serve particularly well. That was probably the one thing that cost me the first set."
Nalbandian, who next plays Nikolay Davydenko, agreed that it been "a great match."
Comments will be moderated. Keep comments relevant to the article. Remarks containing abusive and obscene language, personal attacks of any kind or promotion will be removed and the user banned. Final decision will be at the discretion of the Taipei Times.