Phillies clobber Rays 10-2, take 3-1 series lead
Joe Blanton became the first pitcher in 34 years to homer in the World Series, Ryan Howard drove in five runs with two homers and the Philadelphia Phillies routed Tampa Bay 10-2 on Sunday to move within one win of their first championship since 1980.
Jayson Werth also homered as the Phillies took a 3-1 lead in the best-of-seven series.
Cole Hamels was to try to close out the Phillies' second series title last night against Scott Kazmir in a rematch of Game 1 starters. Hamels (4-0) is trying to become the first pitcher to win five postseason starts in one year.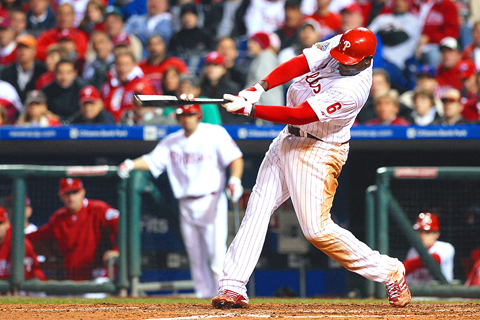 Ryan Howard of the Philadelphia Phillies hits a two-run home run off Trever Miller of the Tampa Bay Rays in the eighth inning of Game 4 of the Major League Baseball World Series at Citizens Bank Park in Philadelphia, Pennsylvania, on Sunday. The Phillies won the game 10-2 to take a 3-1 lead in the best-of-seven series.
PHOTO: BLOOMBERG
Of the 42 teams to take 3-1 World Series leads, 36 have gone on to win the crown.
"It will be absolute bedlam," Howard said of a Phillies' possible title. "It will be one of the craziest places on Earth. It's kind of scary to imagine."
After splitting the first two games in Florida, the Phillies improved to 6-0 at home this postseason. That includes a rain-delayed 5-4 win in Game 3 that ended at 1:47am on Sunday.
Jimmy Rollins made a great escape from a rundown in the first inning — perhaps with the help of an umpire's blown call — energizing the Phillies and rattling the Rays.
A day after hitting his first homer of the series, Howard connected twice. The major league leader in homers and RBIs hit a three-run drive off Andy Sonnanstine that made it 5-1 in the fourth and delighted a crowd of 45,903. Howard struck again with a long, two-run shot in the eighth.
Just 2-for-33 (.061) with one RBI in his career to that point, Blanton homered in the fifth — only the 15th home run by a pitcher in the World Series, and the first since Oakland's Ken Holtzman in 1974.
"I guess I just stuck with my same approach to hitting since I got here, you know: Close my eyes and swing hard in case," Blanton said. "Hope something good happens. Better to be lucky than good, I guess."
Blanton, with a body type that's a throwback to an era of pudgy pitchers, had quite a night. He gave up four hits — including solo homers to Carl Crawford and pinch-hitter Eric Hinske — struck out seven and walked two in six-plus innings.
Even when Jason Bartlett's grounder up the middle caromed off him in the fifth, the ball went straight to third, where Pedro Feliz threw to first for the out.
Four pitchers combined for one-hit relief, with Ryan Madson striking out B.J. Upton on a 3-2 changeup to end the seventh with two runners on, preserving a 6-2 lead.
The middle of Tampa Bay's lineup kept fizzling, with No. 3 hitter Carlos Pena and cleanup man Evan Longoria combining to go 0-for-29 in the series. Second baseman Akinori Iwamura made two errors that led to unearned runs, and a frustrated Longoria struck out three times and swiped a hand through the air when a call went against him at third base.
"We just got to get back into it. We know what's going on. We're just not reacting," Rays manager Joe Maddon said. "We have to not give them four outs in an inning, we have to have better at-bats."
Had the Phillies come up with more timely hits, Philadelphia could have blown open the game earlier. The Phillies were 4-for-14 with runners in scoring position and are 6-for-47 in the series.
Sonnanstine, 2-0 in the postseason coming in, needed 89 pitches to get through four innings. He allowed five runs — three earned — six hits and three walks.
Rollins doubled just inside the first-base line leading off and advanced on Werth's fly to right. After Chase Utley walked, Howard hit a comebacker to Sonnanstine. Instead of throwing to second in an attempt to start a double play, the pitcher ran toward a trapped Rollins off third.
Sonnanstine then threw to Longoria, who appeared to tag Rollins.
But umpire Tim Welke signaled safe.
Pat Burrell walked on five pitches, forcing home the first run.
Before that, Sonnanstine had never walked a batter in 18 career batters with bases loaded. Shane Victorino followed with a slow bouncer that Sonnanstine scooped up and flipped with his glove to the plate for a forceout. Feliz then flied out.
Comments will be moderated. Keep comments relevant to the article. Remarks containing abusive and obscene language, personal attacks of any kind or promotion will be removed and the user banned. Final decision will be at the discretion of the Taipei Times.