Undefeated Bute barely keeps crown
Undefeated Lucian Bute kept his International Boxing Federation super middleweight title on Friday, winning a unanimous decision over Mexico's Librado Andrade that ended in controversy and a near-knockout.
Judges awarded Bute the verdict by scores of 117-109, 115-111 and 115-110. The Canadian-based Romanian southpaw improved to 23-0 while Andrade fell to 27-2 after missing a 22nd knockout triumph thanks to referee Marlon Wright.
Andrade sent Bute to the canvas in the final seconds but the champion rose, aided by a long count by Wright that allowed Bute to recover.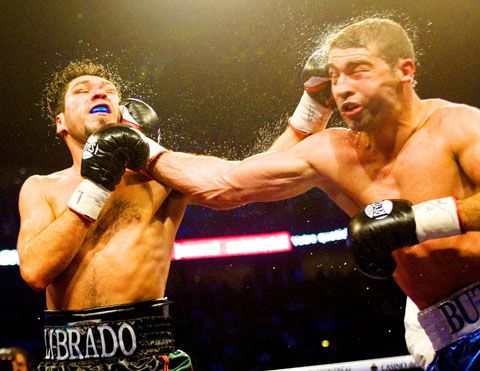 Lucian Bute, right, and Librado Andrade trade punches during their IBF World Super Middleweight championship bout in Montreal on Friday.
PHOTO: AP
"I felt I was the champion," Andrade said. "He was completely out."
"I got tired at the end. But I won the fight," Bute said. "In the 12th round, Andrade was taking advantage of me getting tired. He knocked me down. He won the round. But I won the fight."
Bute dominated most of the fight and was given a dubious knockdown in the 10th round when the fighters' feet tangled, only the second time in Andrade's career he was sent to the canvas.
The champion was exhausted entering the final round, when Andrade knew he needed a knockout to take the title and pressed the attack while Bute struggled to stay on his feet in the final seconds.
Bute was tagged on the chin by a powerful right hand from Andrade three seconds from the bell, the blow sending the champion into the ropes and down to the canvas while an excited Andrade celebrated.
Wright began the count but stopped for several seconds midway into it to send Andrade, jumping for joy well away from Bute, back into a neutral corner, buying Bute the time he needed to recover.
"He was completely out. Completely out," Andrade said. "I was not out of the corner. It was outrageous. He just stopped the count. He turned back and five seconds went by and before he had a five-second delay."
Bute appeared to rise before the count of 10 would have finished but his eyes were glazed. Had Wright been looking at Bute instead of Andrade, he might have awarded a knockout since fighters can not be saved by the bell.
"He's completely out. His eyes are gone," Andrade said. "He [Wright] is not even looking at him. I wasn't even out of the corner."
When Wright returned to the count, Bute was firm on his feet. Wright backed away and the bell rang ending the fight.
Seconds later, a corner man for Andrade shoved Wright, showing his anger over what Andrade felt was a stolen victory.
"He was leaving his corner," Bute said. "The referee was telling him not to leave his corner. That's maybe why it was delayed."
Wright said Andrade cost himself the victory by jumping for joy rather than standing in his corner.
"It was a legitimate knockdown," Wright said. "Once he left the corner I had to stop the count. He was well enough over, three or four feet. Once I got back to the count, Bute was on his feet. He got up and the fight was over."
"Andrade cost himself a knockout win by leaving the corner," he said. "He gave Bute enough time to recuperate. It was because he wasn't back in his corner. Bute would not have gotten up on time but he gave him several seconds to get up."
Bute, whose only fight outside of Canada in the past four years was a 2004 bout in his homeland, was making the second defense of the crown that he won here a year ago.
"My next step is to fight anybody," Bute said. "I will fight anybody, including Andrade."
The Mexican does not expect to have another chance at fighting Bute for the crown.
"If there's a rematch I will take it. If not I will go forward," Andrade said.
"I feel I won the fight. I don't think he's going to give me a rematch. I knew I had to knock him out. I did my job," he said.
Andrade's only prior defeat came in March of last year when he dropped a unanimous decision to Denmark's Mikkel Kessler at Copenhagen in Andrade's only prior world title fight.
Comments will be moderated. Keep comments relevant to the article. Remarks containing abusive and obscene language, personal attacks of any kind or promotion will be removed and the user banned. Final decision will be at the discretion of the Taipei Times.